Recently, it's been in the news that the Archdiocese of Cincinnati is starting a program to reduce the number of parishes. I wanted to share a little about what I saw working in the area about a decade ago, but it got just too long for a tweet or Facebook post.
Cincinnati's Announcement
The Archdiocese of Cincinnati announced on Friday a restructuring initiative that could eventually close 70% of archdiocesan parishes. The process will begin by clustering the 208 parishes of the archdiocese into 60 "families" of parishes, which will share pastors, staff, and infrastructure, but initially remain canonically independent. […]

The archdiocese calls its project, euphemistically, "Beacons of Light." The idea is that clusters of parishes will be identified in November, which will engage next year in planning processes that aim to discern, among other things, which church buildings they can realistically maintain over the long-term. Eventually parishes will be canonically merged.

The idea is probably designed to avoid the kinds of fights that parish closures have prompted in other dioceses.

The project seems intended to allow parishioners to adjust gradually to the idea that they have far more buildings than practicing Catholics need, that priests are stretched thin by driving circuits to service them, and that paying the maintenance and upkeep costs on little used buildings is rarely a realistic long-term proposition.
Read more if you want the whole story.
My Experience 2006-2010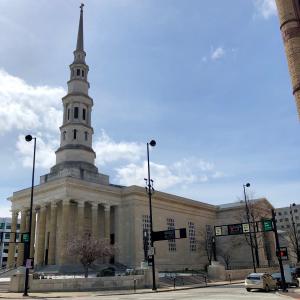 From 2006-2010, I was assigned to help with Regnum Christi, ECYD, and Conquest groups in Ohio, and neighboring states. I was constantly on the road. This allowed me to talk to priests in various dioceses about the issues facing their diocese. Toledo and Cincinnati both have a large section of agricultural lands dotted with small towns while Cleveland and Cincinnati had a lot of inner-city ethnic parishes that were little used.
In Toledo, they had a policy where no priest would ever be pastor of more than two parishes, so as rural areas lost population and priests got stretched, less used parishes would either be closed or reduced to chapels of the parish a town over. In general, this was done one part of the diocese at a time and when I was there, they were moving from three to two priests covering 6 towns so reduced two parishes to chapels with one Sunday Mass leaving the townsfolk to decide if the cost of maintaining the building was worth not driving 10-15 minutes further to Mass.
At the time, Cincinnati had some priests covering a whole slew of parishes. One diocesan priest told me that it seemed like this was causing significantly more burnout and stress-related medical issues at higher rates than any other position, even pastors of the mega parishes in the diocese who had significantly more parishioners than if you combined those rural parishes.
Cleveland decided to do it all together, so created groups that were told that out of this cluster of parishes, the diocese would be able to have this many parishes, this many schools, and this many priests after the changes. They gave parish clusters time to go over it and then sent out announcement letters to all the parishes on the same Sunday. Some people I knew involved in one cluster said that it was pretty much predetermined which parishes would close the day the cluster was announced but the dialogue and discussion also helped deal with a few more minor points for a smoother transition.
Now Cincinnati is doing a process with some things like each of the other two dioceses in the state I knew. Theirs is interesting as they want to maintain canonical parishes while combining staff while others did the staff combining and the canonical parish reduction in tandem.
Conclusion
I don't have a solution, but I thought it worthwhile to consider the various methods. This is not my forte. And I don't think any solution will be perfect. There are some ethnic or rural parishes that we'd likely close even with tons of priests due to demographic changes so we can better serve the community now. However, I suspect that the Church's lack of vocations for a while has made it necessary to close some other parishes. Blaming it all on vocations is inadequate though as "Ordinations in [the Archdiocese of Cincinnati] are on the rise, and while [Schnurr] expects to eventually see priestly vocations reach above replacement level, in which the archdiocese sees more annual ordinations than retirements."
Closing parishes is always tough but sometimes necessary. We need to look realistically at how the Church can best evangelize the world as it is now, not the world as it was 75 years ago.
Note: Please support me on Patreon so I can keep writing more analysis of Catholicism.