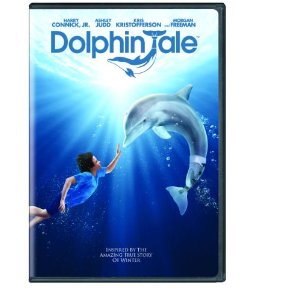 The wonderful family film "Dolphin Tale" comes out on DVD tomorrow. To celebrate, we're giving away five copies.
The story follows a little boy named Sawyer who finds a dolphin beached on the sand. It has netting wrapped around its tail. When marine rescuers (led by Harry Connick Jr.) take in Winter the Dolphin, Sawyer finds friends in both the human and animal family at the marine center. But there is trouble for Winter. Her tail is infected and will have to be removed. Sawyer becomes her biggest advocate, lobbying for a doctor who makes prosthetics for wounded soldiers to make one for the hobbled dolphin. Winter becomes a symbol of home for soldiers and children alike.
Read our full review and interview with the director.
To win the DVD copy, leave a comment below. We'll choose the winners by the end of the week.