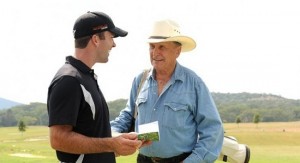 Reading through a list of roles played by the great Robert Duvall is like taking a tour of great American cinema. "Apocalypse Now." "The Godfather." "Tender Mercies." The original "True Grit." Even "To Kill a Mockingbird" as Boo Radley. Nor has he slowed down, appearing in three excellent films in 2009 alone: "Get Low," "The Road," and "Crazy Heart," which won two Oscars.
Which role does the iconic actor consider his best?
The cowboy McCrae in the Western miniseries Lonesome Dove.
"That's my favorite part. Let the English play Hamlet and King Lear. I'll play Gus McCrae," he told me when we talked by phone, "When that movie was over – it was 16 weeks – we were all rather tired. I said I feel like I could retire now because I felt I'd done something great."
He returns to his cowboy role in "Seven Days in Utopia," as Johnny Crawford, a golfing expert in Texas who helps a young golfer get his swing back and his life straightened out. Lucas Black plays Luke Chisholm, whose spectacular meltdown on the PGA tour caused him to seek help from Crawford and, ultimately, God.
Duvall is a fan. "Lucas Black is a legitimate actor and a fine young man. Had it been anyone else in that part, I might not have considered doing it."
The overt faith shown in "Seven Days in Utopia" makes it a bit of a faith-based niche film. (Review here.) I asked Duvall if he thought Hollywood was beginning to open up to explorations of faith.
That's the wrong way of thinking about it, he said.
"Hollywood is set up so that whatever makes money they go for. The faith based movie that makes money, they'll go for…They've always been open to doing most any kind of movie as long as it has a commercial tag pinned onto it. That's the beginning and the end of it in Hollywood. Will it make money or not? So I think they're willing to make faith based or secular movies or whatever. I think there's room for all."
Duvall has always been open to exploring faith and his conservative political views.
"I did a movie called 'Get Low' a couple years ago," he told me, "To me, that was more faith based than [Seven Days in Utopia] even. Because without hitting it on the head directly, it was more indirect. [Utopia] is a direct thing, which is ok. It was more obvious, that's what they were going for. Sometimes when it becomes offhand and you go not so in an obvious way, sometimes for me that can be more effective."
Seven Days in Utopia is now available on DVD.
I think I speak for a grateful nation when I say we are glad Robert Duvall did not retire after "Lonesome Dove" and hope he keeps bringing iconic roles to life for years to come.