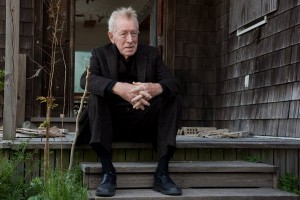 On September 11, 2011, actor Max von Sydow and his wife were visiting his native Sweden from their home in France. "We were driving along a wonderful highway in the south and all of a sudden the mobile phone rings. It is our son, in France, calling, he said, 'You have to come home. You have to come home. You have to drive back. There's a war. There's a war going on. They are attacking America. They are bombing New York.'"
Like the rest of the world, he reacted in horror. Unlike most of the world, his long career in acting had brought him to New York regularly. "The next day and for quite a while after that day, we were all New Yorkers," he told me, "I think everybody identified with all these people who were attacked indirectly and directly. And of course, it's something that is still going on. Of course people are still bombing."
Von Sydow plays The Renter in the 9/11 movie "Extremely Loud & Incredibly Close," a man so scarred by his past he does not speak, but who still befriends a preteen boy struggling to come to terms with losing his father in the attacks.
"[The Renter] had a shock when he was young," explains von Sydow, "He had a family, he had a girlfriend. He was very much in love. He lived in Germany, Dresden. During the war, there was an Allied attack on Dresden, they sort of burned up the entire city. A terrifying attack. Everything was down. It was almost like a Hiroshima. He was there and was the witness of all this and he saw his family and his girlfriend die."
How does a survivor of the Twentieth Century's worst conflict relate to the Twenty-First Century's newest struggle?
"We've been here for – I don't know how many-millions of years," he mused, "And there are still people who are planning to attack another country. It's very sad. Apparently, we never learn. We should look back now and then. Our politicians should look back every now and then. And learn from that. And understand that nobody deserves this. It's intellectual and emotional stupidity. All of us, we deserve to survive."
Ultimately, though, he thinks "Extremely Loud & Incredibly Close" transcends the hurt with something greater: "I think it is trying to tell something about hope. Something positive. Of course, it's about pain, but mainly, it's a film about hope. About love. This poor little boy who loves his father so much and mourns him so much….unfortunately he doesn't find what he wants, but he finds something else. He finds his mother. He finds her love."
"Extremely Loud & Incredibly Close" is playing nationwide.