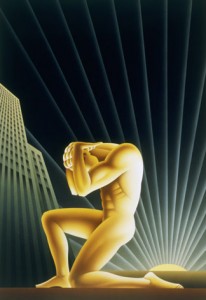 Conservatives and libertarians love them some Ayn Rand, but the theatrical adaptation of her most beloved book, "Atlas Shrugged:Part 1," made just $4.6 million dollars at the box office.
That's not stopping producers John Aglialoro, Harmon Kaslow, and new producer Duncan Scott from moving ahead with the project. They announced today that principal photography will start in April on "Atlas Shrugged: Part 2."
Atlas is a metaphor for taxpayers who hold up society and the book is a dense but philosophic story of hard-working, tax-paying supporters of society who start to go missing.
The first movie was widely panned by critics.
Maybe Atlas needs a back brace.