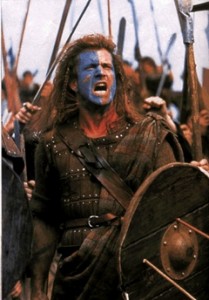 William Wallace may be hitting the small screen. Turns out, Mel Gibson's iconic freedom-loving', kilt-wearing hero is based on an actual, real life figure.
After the success of Spartacus on Starz and Game of Thrones on HBO, plus Wallace's enduring popularity, this seems like a no-brainier.
The project is being shopped around to cable networks, The Hollywood Reporter, um, reports.
Please, please, please, oh please.