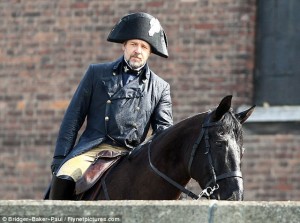 Last week, we showed you Hugh Jackman in costume as the destitute Jean Valjean in the musical adaptation of the Broadway hit "Les Miserables."
Now, thanks to the Daily Mail (which has more pictures), there are first pictures of Russell Crowe as Valjean's nemesis, the police officer Javert.
I used to think of Javert as getting the short end of the stick. After all, he is only doing his job, and doing it well. But as I have matured, I've realized the genuis of Victor Hugo, the author of the magnificent novel on which the story is based.
I now see that Javert is Satanic.
Lest you scoff at my use of a dramatic word, I mean that in a theological sense. Javert, with his unyeilding cleavage to rules and regulations, his rejection of compassion, and his total abandonment of grace, is exactly a picture of Satan, the one who sees you as nothing more than a list of your transgressions and hates you for them.
Some so-called Christians should take note.
As such, his correct but merciless outfit and lack of humor or joy fit perfectly. Contrast that with the utter humanity of Jackman as Valjean. The movie will make the case, as the book did, that even a destitute, dirty, starving, desperate, and criminal nobody like Jean Valjean is beautiful and worthy of receiving and extending mercy.
I cannot wait for this movie. I'm getting verklempt already. It opens December 14.