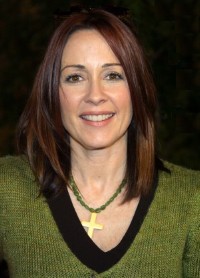 Never shy about her conservative political views, her Christian faith, or her pro-life politics, Patricia Heaton waded into some troubled waters.
The star of "The Middle" and formerly of "Everybody Loves Raymond" tweeted "Hey G-Town: stop buying toothpaste, soap, and shampoo! You'll save money, and no one will want to sleep with you!" and other missives in response to the controversy about Rush Limbaugh calling Georgetown Contraception Advocate Sandra Fluke a "slut."
Heaton has since deleted her account, according to The Hollywood Reporter.
Wildly popular in her mom on TV roles, Heaton told me years ago that she didn't feel persecuted for being a conservative. She said that if her success was persecution, then she had it pretty good.
Update 3/6/12: Heaton apologized to Fluke, the woman at the center of the controversy, before deactivating her account, saying, "Mea culpa Sandra! Wasn't being respectful 2 u re my tweets as I hope people wd b w/me. Don't like you being dissed -so sorry."
Yesterday, she reiterated her apology, saying, "I apologized to Ms Fluke last week. I may not agree with her views but I didn't treat her with respect and I'm sorry. I was wrong. Mea Culpa."