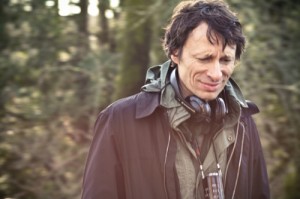 For many of us growing up in Christian culture in the 1980s, musician Steve Taylor was a voice of nuance, irony, and edginess in a world gone soft-focus.  He always seemed to be about truth, even hard truth. In Taylor's eye, Jesus was never merely your boyfriend and the church was full of silly and sometimes downright bad people…but always with a precious core.
I caught up with Taylor last week. He was on a bus travelling from Nashville to Atlanta on the first leg of his "30 Days, 30 Screenings" of his upcoming movie, "Blue Like Jazz." Based on the best-selling book by Donald Miller, the film will premiere at the South by Southwest Festival in Austin before hitting theaters April 13.
Taylor had just finished a big job.
When it seemed that "Blue Like Jazz" was destined to remain a dream and not a reality after a major investor backed out in 2010, some fans posted a request for help on Kickstarter.com.
"I didn't think this was going to work, so I said give us $10 and I'll call you personally," Taylor laughed.
He never expected some 4500 donations totaling more than $345,000 in 30 days.
"Anytime I was in the car, I would make phone calls. I ended up last month finally finishing my 3500 calls. It was great. Now we're all friends. I gotta say I really enjoyed it. I owe these people a lot."
Those who, like me, came to know Taylor through songs like "I Wanna Be a Clone" and "I Blew up the Clinic Real Good" do not know that Taylor studied both music and filmmaking at the University of Colorado at Boulder but chose to pursue music first.
"I figured it was easier to be a rock star in my 20s and a filmmaker in my 50s than try the reverse," Taylor joked. However, as MTV developed the concept of the music video, Taylor directed music videos for himself and others, then switched to filmmaking seven years ago. In the meantime, he started his own label to facilitate Christian artists making a transition to a broader market.
"There had developed this glass ceiling," he said, "We had these Christian artists who had worked their way up in the Christian subculture and deserved to be heard by the world. [A band he represented, Sixpence None the Richer] spoke to a wider audience by in their music and deserved to be heard by a wider audience."
He hopes to do the same thing in the realm of film.
"I feel like 'Blue Like Jazz' has the same potential to speak to a much wider audience as well," he said, "A Christian movie genre has formed. Our first goal with this movie is that we didn't fit into this genre."
"What's surprising to me is that the genre has become synonymous with family entertainment. I'm all in favor of family entertainment, but when and why would we think that all media from faith perspective would have to be a family movie, and how could you possibly get that from reading the Bible?"
This view was not always popular.
As with certain times in his music career, Taylor got pushback from potential investors, saying they would support the film if certain content was softened. The story follows a young man from a Southern, conservative Christian background who goes to a secular Northwestern college and wrestles with faith. "There was no way to tell this story truthfully without a certain amount of PG-13 content," Taylor said. The edgy storylines stayed in, reflecting the tone of the book.
As in music, Taylor turns the camera on what he knows, Christianity, which takes a certain amount of bravery. However, he thinks it's better for believers to mine Christian culture for stories than to leave it to the secular world.
"I think part of the perception problem with Christianity is that there are people on the outside who think we don't see any of this stuff. They don't think we see the hypocrisy within our midst. When that perspective comes from the inside, it helps people understand 'Yeah, we see it. We get it, but there's another way here.'"
When I told him that someone I knew took "I Want to be a Clone" as a straight statement about Christian desire instead of the satire Taylor intended, he laughed.
"I think they're so used to the idea that we have no sense of humor or sense of irony, it's probably an easy mistake to make."