It's good to have offspring to carry on family traditions.
In the case of Twilight's Edward and Bella, their daughter Renesmee will be on hand for all eternity to help the family stare moodily into the middle distance, have huge emotional breakdowns over trivial interactions, and fight the occasional vampire/werewolf/other that drifts through town.
Here is the first picture, from Entertainment Weekly, of Makenzie Foy as Renesmee in November's The Twilight Saga: Breaking Dawn Part 2. She's with her mom (Kristen Stewart), her dad (Robert Pattinson) and a lot of black.
From what we can see, she looks just like any other tweenie girl except, you know, paler. I bet it's hard to grow up with all that brooding. Sometimes a girl just wants to play with her Barbies, you know? Without having to emote about the horrors of eternal life and whether the Volturi (crabby, powerful vampires) are out to get you?
It's hard enough just dealing with parents who would saddle you with a name like Renesmee.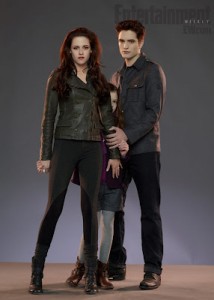 More photos from EW here.
Read our (not entirely favorable) review of The Twilight Saga: Breaking Dawn Part 1.