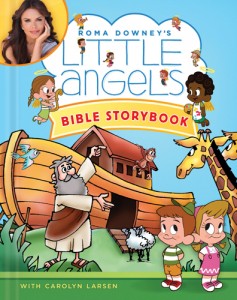 First she was an angel on TV, and then she created the Little Angels DVD series for preschoolers. Now, Roma Downey is releasing a companion book to the DVD series.
"The Little Angels Bible Storybook is a first Bible for children," Downey told me when we spoke by phone, "It's designed to lovingly guide children through the main stories of the Bible."
The characters from the DVD serve as guides to the stories. Alex and Zoe are four year old twins. Their nursery has a mural of angels on the ceiling and when the adults leave, the angels pop down to teach the children moral and practical lessons. In the books, they present the stories in age appropriate ways.
"My favorite part is the anchor," Downey told me. That's the lesson at the end that helps a child apply the wisdom of the story to their own life. Each story ends with "I can…, I pray…, and I will…" It's designed for a parent to discuss the story and pray with their child as they tuck them in at night.
Downey says the quality of the book was important to her as well. "It's charming, beautiful and bright," she says. Plus, it's designed to be easily cleaned in response to sticky little fingers.
Downey's own children are grown, but she takes special pride in this project. "I have come through raising my own kids. These are tools I would have loved when raising my own children….It's a great world to have created."
The Little Angels Bible Storybook is newly released from Tyndale and is available at Christian book stores and online.
We're giving away three copies of The Little Angels Bible Storybook! Please leave a comment below for your chance to win!
On November 2 at noon (EST), we'll pick three names in a random drawing from all eligible entries received and send you an email notification if you are one of the winners!
Limit one (1) entry per person; NO PURCHASE NECESSARY TO ENTER OR WIN. Open only to legal residents of the 50 United States and Washington D.C. who are 18 or older as of date of entry.