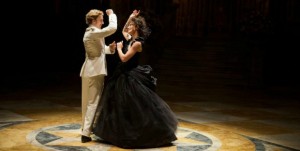 It's no joke adapting a Russian novel like Leo Tolstoy's Anna Karenina for the big screen.
Those Russians pack a lot of angst, wisdom, darkness, and redemption into their novels, not to mention extensive passages on 19th century agricultural practices.
So when Joe Wright, the director of the Oscar winning Atonement and The Soloist, picked up the great Russian novel to read, he had no concept of turning it into a movie. The story got under his skin, however, and a concept was born.
Wright teams up again with his Atonement star Kiera Knightly, who has matured into a lovely woman capable of pulling off Tolstoy's erratic, desperate, and passionate heroine.
However, his biggest accomplishment is his lush, fresh, and fascinating conceit of staging nearly the entire story on a theater stage and backstage. When we sat down recently in Washington DC, Wright explained his idea:
The stage was an interesting metaphor for the way Russian society lived at the time. They were suffering from a bit of an identity crisis and weren't sure if they were Eastern or Western. They chose to be French. They spoke French, wore Parisian fashions, they read etiquette books on how to behave in polite French society. So they were kind of performing. They sort of lived their lives as if on a stage.
The idea sounds labored, but Wright pulls it off magnificently. The movie is not so much on a stage and in a theater as both on stage and in real life. Different levels of reality are staged with different levels of stagecraft. It is hard to imagine until you've seen it. For instance, a ball in which ladies sit on French settees and wear French fashions will have walls, curtains, and even sky of obvious stage backdrops, cut out of wood and painted thinly. Something more intimate, such as a couple's bedroom, will have real furniture and walls, although it is located back behind the stage. A street scene happens in the upper catwalks, people crowding and pushing against each other on the railings as they would on the street.
It sounds labored, but it works so well that you wonder why you haven't seen it before.
There are, however, a few scenes that happen away from stage, in a real setting of real life. These are even more fascinating. Wright explains:
The whole film takes place in the theater apart from Levin's story and two scenes with Anna. And Levin kind of turns his back on that society and decides to seek a more authentic form of life. Really, it's two books in one. There's the story of Anna Karenina and that's a fiction but it's also the story of Levin and Kitty. And Levin is really an autobiographical portrait of Tolstoy. He kept a journal his entire life except for the four years he was writing Anna Karenina. And when asked why he stopped during that period, he said, if you want to know what's happening with me, then read Levin.

Levin and Kitty
Knightly is the wife and mother who falls in love with a dashing officer named Count Vronsky (Aaron Johnson), giving up everything for that love. Her long-suffering husband Aleksei Karenin (Jude Law) loves her but cannot compete with her passion. In contrast, Levin (Domhnall Gleeson) courts a young, easily impressed Princess Kitty (Alicia Vikander) who must mature to recognize his value. They are joined by a backdrop of blueblood relatives, friends, and gossips who glitter richly amid and above the poverty-stricken masses.
"It is a story of love in all its forms," Wright said. He left out some of the social commentary and agriculture to focus on the many forms of love.
Most adaptation of the book focus on the consuming passion of Anna Karenina and Vronsky, a forbidden love that then, as now, leads only to pain and destruction. However, Wright felt strongly that it was important to balance that story with the growing and maturing story of Levin and Kitty. While Anna Karenina burns brightly for a time, Levin and Kitty light a fire that will keep them warm throughout life.
The acting is superb, but the credit goes to the director. Not only is the staging conceit surprisingly effective, but he carefully choreographs scenes of dancing and work alike so that they become a form of art in themselves. The costumes are fantastic and of course Knightley looks lovely in the furs and silks of high society. The script is quitely profound, carrying some of the gravitas of the book nicely.
Of all the movies I have seen so far this year, this film is the first I think should truly be an Oscar contender. Wright should certainly be nominated for Best Director and, based on current offerings, should win. If you love literature, especially Russian literature, go see this film. You won't regret it.
The film is rated R for some sexuality and violence. The main story line is adultery, but it is shown with complexity and consequences. The sex scenes are not heavy-handed.