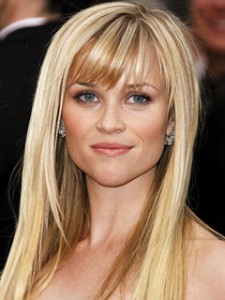 Hollywood golden girl Reese Witherspoon was arrested Friday morning along with her husband Jim Toth. He was arrested for DUI while Witherspoon got busted for disorderly conduct.
Apparently, she tried to use her star status to get out of the tight spot, asking him if he knew her name and telling him he would be in the national news.
Not her finest moment.
And that's just the thing. We all have not fine moments.
Ours, thankfully, don't make headlines.
Let's review what we know of Reese's life.
She started acting in 1990, landing small roles and making a name for herself.
In 1997 she met Ryan Phillippe. In late 1998 they found that she was pregnant. She was 22.
In 1998, Witherspoon had enough acting jobs to know that she potentially had a future in the business, enough critical acclaim to know she had a shot at the big time. But she had not yet made it. Legally Blonde, her big breakout role, was 2001 and Sweet Home Alabama, which cemented her fame, 2002.
Witherspoon doesn't talk about it publicly, at least that I know of, but I've always thought it was a brave choice to take time to have her baby. Many established actresses do not take time to have children for fear of missing work. They also worry about their figures and the effect of childbearing on it. I always wonder what Reese Witherspoon thought she might be giving up to marry the father of her child and have her presumably unexpected baby. She had no way of knowing fame and fortune was indeed in her future. She would have only seen missed auditions and roles.
She and Ryan Phillippe had another child four years later. After another four years, she and Ryan Phillippe divorced.
There is speculation, but we do not know why. Neither party felt like discussing it with the press. We do know from court records that they treated each other fairly and did not slander, abuse, or try to gouge each other financially. We know from the paparazzi that both are actively involved with their children. As we all know, would not necessarily be the norm with divorced couples.
Reese dated, including a fairly long term relationship with Jake Gyllenhaal. And then, in 2001 she started dating a talent agent she met when he defended her from a drunk man's advances in a bar.
After a courtship of about a year, they married in 2011 and had a son last September.
I have always respected what I know of Reese's life: Her decision to have a child that might potentially cost her in her career. Her attempt to make her marriage work and then her respect for her ex-husband in the mature way they divorced. Her steady dating habits and joyful courtship.
She does not court the press but does not seem to resent them. She has areas in which she retains privacy but seems to appreciate the good fortune she's been given. She seems like a good mom and a good wife.
And now, a crack in the maturity, a tarnish on the crown.
And yet, she immediately took responsibility, saying:
Out of respect for the ongoing legal situation, I cannot comment on everything that is being reported right now. But I do want to say, I clearly had one drink too many and I am deeply embarrassed about the things I said. It was definitely a scary situation and I was frightened for my husband, but that is no excuse. I was disrespectful to the officer who was just doing his job. I have nothing but respect for the police and I'm very sorry for my behavior.
That's mature behavior as well: Apologizing and taking responsibility for one's bad behavior. In a town in which nothing is ever too shocking, Reese is "deeply embarrassed" by mouthing off to a police officer. For Lindsay Lohan, that's just Tuesday. For a host of others, that would be a good way to get press. But for Reese, it's an embarrassment.
So, let's give Reese a break, Internet. I'm still a fan. It'll take a lot more than this one incident of bad behavior for me to give up on Reese Witherspoon.