The Story:
The true story of Homer Hickam, a coal miner's son who was inspired by the first Sputnik launch to take up rocketry against his father's wishes.
The Stars:
Jake Gyllenhaal, Laura Dern, Chris Cooper
Release Date:
1999
Rating:
PG
Our Take:   
Movies don't get much more inspirational thank this true story of a boy destined for the coal mines who found a future in the stars.
Homer Hickam (Jake Gyllenhall) is a teen in a 1950s West Virginia town in which sons follow fathers into the mines as inevitably as night follows day. His dad John (Chris Cooper), an inherently decent man, works as a super intendant in the mine and hopes his sons will do the same. Russia's launch of the Sputnik satellite in 1957 gives Homer the inspiration he needs to pursue a dream. Encouraged by his teacher (Laura Dern), he gathers his mischievous friends and the local nerd to build a rocket and enter it in the science fair.
That true story is enough to make this a good movie, but the core of this film is the disconnect battling stubborn love between a literal man of the earth and his son who is destined for academia and NASA. Cooper plays John Hickman as a dignified and decent man who knows pride in hard work and treating others with respect. He is a good man, but cannot see anything other than foolishness and childishness in his son's fascination with rockets.
The theme of fatherhood is highlighted by the contrast of Homer's friend's stepfather, who would rather punch than parent. Although John Hickman finds himself increasingly alienated from his brainy and willful son, he would never become a man who knocks around those weaker than himself.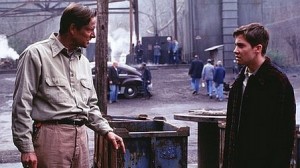 In addition to being inspiring, the film is satisfyingly entertaining, as the boys' scheme and trick to pursue their passion, a passion that often has amusingly disastrous results.
In the end, the boys' dream of rocketry gives them a chance at a life no one ever imagined for them. But, even more importantly, the good people of Coalwood, West Virginia prove that a boy's dreams may take him far from home, but will never really remove him from the family and community from which he comes.
Be Aware:
This film is rated PG. It has some mild language and a brief implication of sensuality. The most intense scenes are the violence inflicted on a boy by his stepfather and an accident in the mine. The themes of father-son conflict may be too mature for younger children.
Appropriate for Ages:
Older elementary school and older. Check here for specifics.
Related Material:
Based on the memoir of Homer Hickam, Rocket Boys. Hickam went on to design rockets for NASA, worked as an engineer for the Army, and has written many books.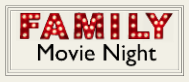 This is the kickoff of our Family Movie Night Feature. Patheos writers will bring you weekly  recommendations for a film to watch together as a family. All our recommendations will be gathered on the Family Movie Night page.
Buy October Sky or Hinkam's books here: