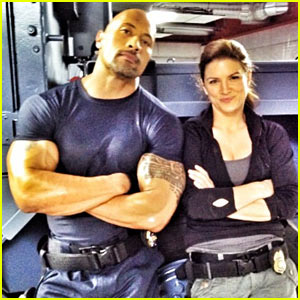 If you see The Fast and the Furious 6, I highly recommend that you do what I did and sit in front of your local chapter of The Rock Fan Club.
It, um, enhances the experience.
One might even say it pumps it up.
Puts the fun on steroids. (Too far?)
Every time the muscle-bound former wrestler swaggers on screen, the varying degrees of muscle-bound fans behind me cheered wildly. When The Rock (aka Dwayne Johnson) delivered a wry one-liner, they laughed uproariously and when he good naturally allowed the film to poke fun at him, they swooned (in a particularly manly way, of course).
Like the movie itself, the whole experience was a lot of ridiculous fun.
In this sixth installment of the movie franchise, the formula of  male fantasy involving fast cars, sexy women, unlikely escapades and daring men strong enough to handle it all has been solidified.
We catch up with racing patriarch Dominic (Vin Diesel) and his new blond babe Elena (Elsa Pataky), living the good life in a beach house in a country that doesn't extradite to the US. Life is good. They've got millions from their morally-correct and lucrative take down of a Rio gang lord, a beach, nice cars, and plenty of lovin'. Nearby, Brian (Paul Walker) and Mia (Jordana Brewster) coo over their new son. They pause only to drive cars fast and debate the merits of imported horsepower versus American-made.
A pretty good gig if you can get it.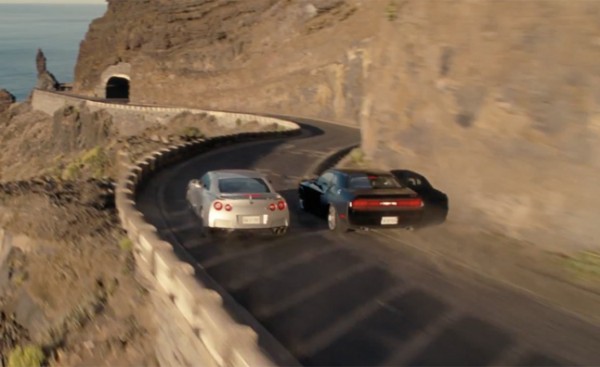 It's too good to last.
Agent Hobbs (The Rock – Woohoo! Yeah! Oh, yeah! Wooo!) intrudes in paradise. He can't get at their little exile beach haven because, as we're reminded, there's no extradition. But he has news that sucks Dominic and Brian back into the car-racing, noble crime circuit. Dominic's old love, Letty (Michelle Rodriguez, presumed dead because the last time we saw her she was shot point blank after suffering a rather unfortunate massive car wreck (but who's counting?), has been seen alive.
And with that, the boys are off to Europe (bye, bye Elena) where the only way to beat the ruthless gang, satisfy Hobbs (Booya! Alright! Woo!), save Letty, and be allowed home to the USA, is to drive expensive cars faster than they do.
The coconspirators from the previous installment gathers: Wise-cracking, bickering Roman (Tyrese Gibson) and Tej (Ludacris) along with lovebirds Han (Sung Kang) and Gisele (Gal Gadot). The crew can drive any car, hack any security system, shoot any ridiculously big gun, and look good doing it.
As in the prior movies, everything works just right and doesn't stress the brain synapses. Roman and Tej trade barbs that are genuinely funny, Dominic emotes in his flat, deep voiced way that is either a still-waters-run-deep thing or an inability to move the muscles of the face. Either way, it works for him. The Rock  (Woo! Rock! Yeah! Boom! Boom! Yeah!) brings his charming hammy self to good natured, self-deprecating mockery. The repeated line when he walks in the room is "I smell baby oil" and it seems that no one enjoys the joke more than The Rock (Cat whistle!) himself.
There's a reason this guy has a fan club.
Watching the very very nice cars race very very fast in very very tight quarters never gets old. There goes a Dodge Daytona, cherry. Now a BMW M5. Lamborghini Murcielago, an Aston Martin DB9. (For a breakdown of the horsepower, go to Top Gear's coverage.) If life were a little different, thinks every man in the theater, it would be me behind the wheel there.
The law doesn't matter here. The actual law is merely a detail and the laws of physics even more bendable. By the time they're thrown off a bridge completely, you're so involved in the over the top fun, you want to cheer like The Rock Fan Club behind you.
Only in a movie this goofy and free-wheeling would a character be able to say that a car "broke her fall" and have it not bother you. We all know cars don't break falls. We all know they are not featherbeds. Nor are they pillows. But the laws of physics have been suspended, so in this universe, a hunk of metal is a cushion.
Sure.
Part of the reasons these movies work so well is the simple, basic man-code at the core of them. Dominic and Brian may break regional and physical laws,  but they never violate their code: Family comes first. Take care of your own and don't hurt others (unless it can't be helped or they're bad guys.)
The family here, of course, is the merry band of crazy drivers and hijinx perpetrators.
The Fast and the Furious 6 is rated PG-13 for "intense sequences of violence and action and mayhem throughout, some sexuality and language," which pretty much sums it up. The language isn't too egregious and the film is much more interested in sexy cars than sex itself. There is a scene of heavily implied sexuality and semi-nudity, plus several shots of women who could use a sandwich or two and can't seem to afford enough fabric in their shorts to cover their derrières. For some reason, they seem to always pose next to the amazing automobiles. It's almost as if men liked that combination of sleek power and skinny, semi-clad women.
Go figure.
Mayhem there is in plenty, and lots of fun too. Enjoy!