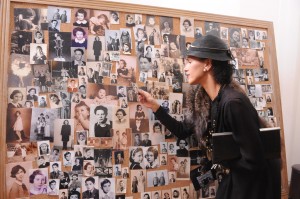 Imagine you are twenty-nine years old, preparing to go on a skiing vacation in Switzerland with your friend. At the last minute, he calls to cancel, asking you instead to accompany him to Czechoslovakia to visit camps where refugees are fleeing a brutal dictator annexing parts of their country. Your friend is part of a commission trying to help adult refugees to flee, but when you get there you see that  there is no one working to help the children of these camps. Parents ask for your help, some finding the hotel where you are staying at and pleading with you to do something. It is 1939. The dictator's name is Adolf Hitler. Most of the world, including representatives of your government, believe he will be appeased by having been granted the Sudenten borderlands. You disagree, in part because you visited Germany six years earlier and witnessed persecution of Jews. You believe the lives of the children in the Czech refugee camps are in danger, and the clock is ticking. What would you do? What could you do?
Nicky's Family tells the true story of Nicholas Winton, a man who found himself in just such a position. Winton wrote letters, coordinated with charities, arranged visas, and eventually managed to arrange for transport of nearly seven hundred children out of Czechoslovakia. The film states that Britain's was the only government that agreed to allow the children entry, and only if Winton could find a custodial family for each child and provide a guarantor of fifty pounds per child. The final train of refugees Winton arranged transport for was stopped because of the outbreak of World War II. No longer able to directly aid the children of the camps in Czechoslovakia, Winton contributed to the war effort first as a part of the Red Cross and later as a member of the Royal Air Force.
Amazingly, after the war was over, Winton's story was almost forgotten. Few of the children knew even the name of the man who had helped their family, and Winton himself tended to focus on other charities and works. It wasn't until he (re)discovered a book many years later that had photos he took of the children to advertise for their placement that others asked for permission to see if they could reconstruct a list of the children saved to see how many of them were still living.
If all
Nicky's Family
did was retell the story of this amazing humanitarian effort, it would be enough to be inspiring. But the documentary also includes footage of Winton (who is still alive at the age of 104) and the now grown children he saved. Perhaps the most emotional moment in a film suffused with raw emotion comes during a clip from a television special in which Winton is reunited with one of the children, now grown, whom he rescued many years ago. The studio emcee then asks anyone in the audience who directly or indirectly owes his or her life to Winton to stand. What follows is a moment of rare and powerful beauty of the kind that transcends the spectacle of movie special effects.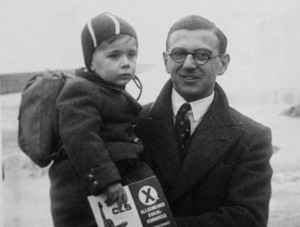 There were two features of Nicky's Family that were especially gratifying. The first was the respect and reverence with which the grown children spoke of their own biological parents. Winton is a hero, to be sure,  but many of them insist their parents were also heroes for letting them go, giving them up, giving them a chance. The other is the way in which the survivors try to honor Winton not just by praising him but by emulating him, paying forward moments of grace and giving as a way of expanding Winton's legacy. The children whom Winton helped save have grown up to be academics, members of parliament, scientists, artists, and more. Many have begun their own families and tried to instill in their children a sense of the moral obligation that comes with the recognition of the sacredness and fragility of life. As the film documents their contributions to society, I was struck by the ways in which time can magnify our deeds, showing us the larger consequences of what we thought were small achievements and the breathtaking scope of the ripples emanating from our best efforts.
Through all the stories echoes Winton's motto: "If something isn't blatantly impossible, there must be a way of doing it."
Nicky's Family opens July 19th in select theaters in New York and Los Angeles. For additional screening dates and locations, consult Menemsha Films.
Ken is the editor of 1More Film Blog and a frequent contributor to Christianity Today Movies & TV. He is guest posting on this blog.