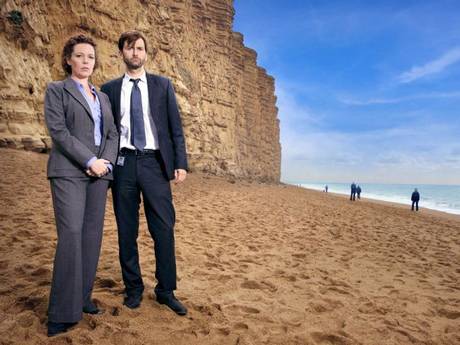 Ever since Twin Peaks aired in 1990, television has seemed like the perfect medium to tell long-form stories about detectives investigating a single crime. Unlike film, in which the mystery typically needs to be solved over the course of a mere two hours, the small screen allows fictional police work to be presented more faithfully to its real life counterpart: as slow, methodical and draining rather than action-packed and exciting. The past few years in particular have seen a resurgence of slickly-produced tv dramas about serial killers and the people hunting them down, both in the United States and the UK. Dexter, Hannibal, The Killing, The Fall, Sherlock, Luther, Top of the Lake, The Bridge… Murder makes for compelling television, and while most of those shows are worth watching for virtues beyond the initial cops-and-killers premise, it's starting to feel more than a little tired.
The latest entry into this ever-expanding genre is Broadchurch, a British import that received rave reviews and ratings when it aired in the UK last spring. Showrunner and head writer Chris Chibnall is perhaps best known for his contributions to Doctor Who and its spin-off Torchwood, and the series reunites him with two recurring directors from those programs, James Strong and Euros Lyn. Viewers in the mood for something bleak may find lots to love, but there's not much in the first episode to differentiate it from its crime drama brethren.
The premise is simple. A young boy named Danny Latimer is found dead on the beach, and detectives Alec Hardy (Doctor Who's David Tennant) and Ellie Miller (Olivia Colman) have to track down the killer. The opening episode is painfully familiar, and there's not much to indicate it will proceed much differently from other shows of this ilk. It plays out very similar to the pilot of another show that follows one murder investigation over an entire season or longer, The Killing, albeit without all the rain. We've seen this before: a body is discovered, the police and media descend, the family members of the victim begins to grieve. It's likely the show will develop its own identity as the season progresses, but this beginning is pretty standard stuff.
That said, Broadchurch kicks things off as well as a series about a murder investigation can these days; this is one of the rare instances where a solid execution may prove enough to breathe life into a premise that feels like it's reached its saturation point. The two leads are supremely talented (go rent the British drama Tyrannosaur for a powerful look at Colman's capabilities) and the direction in this first episode never feels insecure.
There's loads of potential in the setting, the titular small town. In the United States, a single murder in New York City or Chicago is commonplace, or even a "good day." But in smaller communities—especially in the UK, where even London seems relatively safe—the murder of a child is far more impactful. A greater percentage of residents may know the victim, or perhaps even have a motive to commit the crime. Even law enforcement officials, in the case of Detective Miller, may find their professional judgment tested by personal connections to multiple invested parties. The smaller the community, the greater the upheaval when lives and routines are suddenly disrupted.
We aren't told much about our main detectives, but what we do learn could lead to some interesting developments. Miller's first scene finds her returning to the office after taking three weeks maternity leave, only to discover that a promotion she was assured was hers has been given to Hardy. Not only does this immediately introduce tension between the two officers—can you remember the last time you saw a detective show where people worked together without any problems?—it also clues us in that she's psychologically vulnerable to the pressures of this case. She knows Danny and recently had another baby, so the murder weighs heavy on her mind. Hardy's obstacles, meanwhile, are more professional in nature. He's an outsider, having only recently arrived in Broadchurch after a scandal during another high-profile murder case tarnished his reputation. The fact that the Daily Herald has sent seasoned reporter Karen White (Vicky McClure) to investigate may make it more difficult for him to escape the media spotlight and possible past transgressions.
Sure, this is all well-trod territory, but it would be a mistake to completely write off Broadchurch after one episode, particularly given its overwhelmingly positive reception overseas. I suspect that like most shows of this vein, it will succeed or fail based on how it develops everything around the murder rather than the murder itself. The identity of the killer is important (which is why so many people felt cheated after the first season of The Killing), but it won't matter if the show can't create compelling characters, moods and themes.
Enough of all those things are present in the first episode to suggest that Chibnall knows what he's doing. One astonishing shot in the first half follows Danny's father (Andrew Buchan) as he takes a morning stroll on the way to work, chit-chatting with friends and acquaintances along the way. It's all presented in one long, smooth take, the calm before the storm, and begs the question: Which of these smiling faces hides a killer underneath? If Chibnall, Strong and Lyn keep crafting things this precisely, Broadchurch might just be able to take its clichéd premise and elevate it into something fresh.
Broadchurch airs Wednesdays at 10pm EST on BBC America. The first episode is available for viewing on demand and on the web for a limited time.
—
Andrew Johnson is a freelance journalist and the founder of Film Geek Radio, a network of film-and-tv-themed podcasts. He's also a contributing editor to Movie Mezzanine. His writing has appeared in numerous print and online outlets, including The Syracuse New Times, The Post and Courier, AFI-Fest and Film School Rejects. Follow him on Twitter @WriterAndrew.