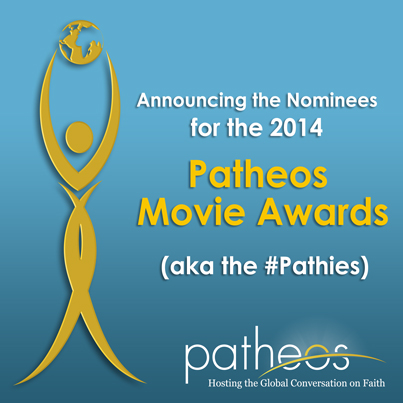 We watch lots of movies here at the Entertainment Channel. And we have lots of opinions about them. So we decided to create the first ever Patheos Movie Awards, the Pathies!
Our Entertainment Channel writers have selected our nominations for the best in cinema in 2013.
The final Patheos Movie Awards (aka the #Pathies) will be announced February 26, 2014.
The Nominees are:
Best Picture of 2013
12 Years a Slave
Gravity
Her
Lone Survivor
Philomena
Best Director
Alfonso Cuarón (Gravity)
Peter Berg (Lone Survivor)
Steve McQueen (12 Years a Slave)
Spike Jonze (Her)
Cristian Mungiu (Beyond the Hills)
Joshua Oppenheimer (The Act of Killing)
Joel and Ethan Coen (Inside Llewyn Davis)
Best Actor
Leonardo DiCaprio (The Great Gatsby)
Leonardo DiCaprio (The Wolf of Wall Street)
Chiwetel Ejiofor (12 Years a Slave)
Christian Bale (American Hustle)
Joaquin Phoenix (Her)
Best Actress
Emma Thompson (Saving Mr. Banks)
Sandra Bullock (Gravity)
Greta Gerwig (Frances Ha)
Brie Larson (Short Term 12)
Barbara Sukowa (Hannah Arendt)
Adéle Exarchopoulos (Blue is the Warmest Color)
Judi Dench (Philomena)
Best Supporting Actor
Bradley Cooper (American Hustle)
Jared Leto (Dallas Buyers Club)
James Franco (Spring Breakers)
Daniel Brühl (Rush)
Michael Fassbender (12 Years a Slave)
Best Supporting Actress
Jennifer Lawrence (American Hustle)
Sarah Paulson (12 Years a Slave)
Sally Hawkins ( Blue Jasmine)
June Squibb (Nebraska)
Lupita Nyong'o (12 Years a Slave)
Best Movie to Watch as a Family
Frozen
Monsters University
From Up on Poppy Hill
Saving Mr. Banks
The Way, Way Back
Best Portrayal of Faith
Dr. Ryan Stone (Sandra Bullock) in Gravity
Branch Rickey (Harrison Ford) in 42
Father Quintana (Javier Barden) in To the Wonder
Shira (Hadas Yaron) in Fill the Void
Philomena (Judi Dench) in Philomena