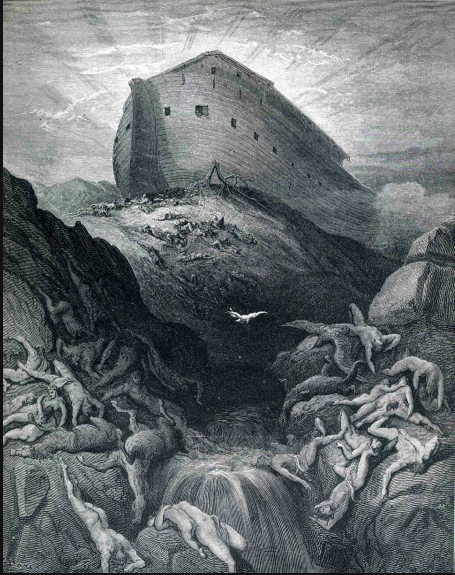 I have not seen Darren Aronofsky's Biblically-themed epic Noah.
You have not seen Noah.
No one has seen Noah, except perhaps Aronofsky himself. It's not finished yet. (Although an early version was shown to test audiences, yes.)
Yet, the self-appointed forces of Biblical Orthodoxy are coming out against it.
Just because, you know….Bible.
As Peter Chattaway posted, the same PR firm that campaigned for Duck Dynasty during the recent Culture War moment is now riling the faithful up against Aronofsky's Noah, a MOVIE NO ONE HAS SEEN.
They use this shockingly, horrifyingly, embarrassingly leading question:
"As a Faith Driven Consumer, are you satisfied with a Biblically themed movie – designed to appeal to you – which replaces the Bible's core message with one created by Hollywood?"
When the respondent inevitably answers "no," the poll result is taken as a hit against the film WHICH NO ONE HAS SEEN.
No wonder Hollywood wants to steer clear of faith audiences. With crazy stunts like this, who can blame them?
It's just embarrassing. The movie may be good, it may be bad, it most likely is a mix.
It may challenge our cute, fuzzy understanding of the story. It may even challenge our faith.
That's what art is supposed to do.
And, let me tell you, "Faith Driven Consumers," if you associate the story of Noah with adorable animals smiling under a sunny rainbow, you're reading the story wrong. It's the story of one man, one single man, chosen with his wife and descendants, to survive a mass extinction. It's dark, horrible judgement and a story with which believers should wrestle.
Not one they should put up on a nursery wall.
If you're ok with a simplistic, two-sentence explanation of the Noah story, you're hiding from the deeper, darker, richer, and ultimately life-giving aspects of the Bible.
But whether the story follows our unchallenged idea of what "Biblically accurate" is, whether it actually goes against the Christian faith (Aronofsky is Jewish, and they had the story first), or whether it is exactly what you've always imagined…..
We just don't know.
So stop fighting against something we don't know about yet.
Please.
You're embarrassing me as a Christian believer.
If you want to know more about the Noah movie, we've been covering it extensively.
image: Gustav Dore woodcut h/t Dave Lilley