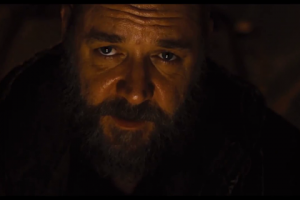 How are these guys any different than Al Sharpton?
Faith Driven Consumer is an agency that has made lots of news pushing a hugely flawed poll that purports to show that 98% of faith-driven consumers reject Darren Aronofsky's upcoming epic based on the Biblical Noah.
When you click through to their website, the poll is front and center.
The single question is what we in polling-conscious Washington DC call a "push poll." It is a question framed not to find out what you really think but to form how you think.
As a Faith Driven Consumer, are you satisfied with a Biblically themed movie – designed to appeal to you – which replaces the Bible's core message with one created by Hollywood?
That's bad enough. As I wrote before, it's embarrassing on many levels. 
But wait, there's more.
Right under the question there is a field that demands you enter your name, email, phone, and address.
They want you. They want to gather the names and contact information for concerned Christians and use them for money.
They want a list. A list is a powerful thing in this world.
So "Faith Driven Consumer" has created a controversy that did not fully exist before for the sole purpose of making money off you.
This makes me very, very angry.
Because I love and respect the Christian in Minnesota and Tennessee and California who feels underserved by Hollywood. I love the church-goer who works hard and volunteers at the church homeless shelter or pregnancy center and takes care of their children and, at the end of a long day, just wants to relax in front of a movie or TV show that doesn't mock them or their beliefs.
These people are part of what makes America the great place it is. They don't spend a lot of time thinking about art and Hollywood and the connection of faith and moviemaking, like I do. They just want to watch The LEGO Movie with their kids or Lone Survivor on date night.
I consider it a big part of my job to honor and serve these folks.
And "Faith Driven Consumer," taking a page out of exploiters like Sharpton and his ilk,  is scaring them and exploiting them for their own ends. For money.
That, actually, makes me sick.