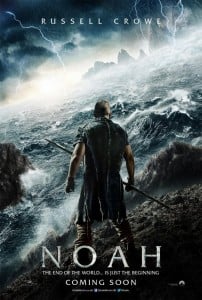 Imagine it's Thanksgiving. You're gathered with extended family: your organic, hippy-dippy sister and her vegan kid, your two-tours-in-Iraq Marine Corps cousin, your Boomer peacenik aunt and your Korean War vet, hard-drinking grandfather.
History with this bunch reaches back decades, some of it from before you came on the scene. There are tender spots of emotional wounds and intellectual points of disagreement. Sometimes the emotional and intellectual are woven so closely you don't know where one starts and the other ends.
Everyone disagrees with each other, strongly. Everyone thinks the other is a little kooky. And when you all look at each other, you sometimes shake your head.
But under it, you love your sister, your cousin, your aunt, and your grandfather. Deeply, richly, with something that goes beyond those points of hurt.
And then your artsy-fartsy nephew says "I've been thinking a lot about the story of Noah. It's been kind of consuming my mind. What would make God do that? What would it be like to be Noah? Are people good with a little bad or are they bad through and through?"
Suddenly, in this charged, uncomfortable but loving context, a real conversation starts.
How do you react?
Do you know all the answers and give a lecture? How would that go over? Would people listen to you?
Do you get angry because this person is asking questions and not listening to you? Stinging your pride?
Or do you realize that, even if you did have all the answers – you don't, but even if you did – they have to discover it and wrestle with it for themselves?
This is the opportunity we, as faithful folk have been given with the movie Noah.
When you love someone, you listen. Not pretending to listen while you're formulating your argument. Really listen.
You listen especially to their heart, to the cry of their heart.
When you love the culture, you listen to it. You try to hear it, to understand it, to hold it close.
Listening is not agreeing, not condoning. It is merely saying, "Hearing you express the deep, inner murmurings of your heart is an honor for me. Thank you for sharing yourself with me."
The movie Noah, even if it were blasphemous – it's not, but even if it were – is not a threat. It is not a threat to you or to me. It is a movie, made honestly by a person who thought about and wrestled with the story. It is an offering, an invitation, an opening of heart.
It is a chance.
So who are we going to be? The loud, unkind know-it-all at Thanksgiving dinner? Are we going to be the people that no one would even approach because they know the reaction will be painful?
Or the one relative people trust enough to open up to?
Patient, kind. Not boastful, not proud.
It's hard but it's right.
These are all things we can apply to cultural dialog, ways we can be in cultural dialog. We can approach Noah this way. We should approach Noah this way.
If I speak in the tongues of men or of angels, but do not have love, I am only a resounding gong or a clanging cymbal. If I have the gift of prophecy and can fathom all mysteries and all knowledge, and if I have a faith that can move mountains, but do not have love, I am nothing. If I give all I possess to the poor and give over my body to hardship that I may boast, but do not have love, I gain nothing.

Love is patient, love is kind. It does not envy, it does not boast, it is not proud. It does not dishonor others, it is not self-seeking, it is not easily angered, it keeps no record of wrongs. Love does not delight in evil but rejoices with the truth. It always protects, always trusts, always hopes, always perseveres.

Love never fails. But where there are prophecies, they will cease; where there are tongues, they will be stilled; where there is knowledge, it will pass away. For we know in part and we prophesy in part, but when completeness comes, what is in part disappears. When I was a child, I talked like a child, I thought like a child, I reasoned like a child. When I became a man, I put the ways of childhood behind me. For now we see only a reflection as in a mirror; then we shall see face to face. Now I know in part; then I shall know fully, even as I am fully known.

And now these three remain: faith, hope and love. But the greatest of these is love.

-1 Corinthians 13