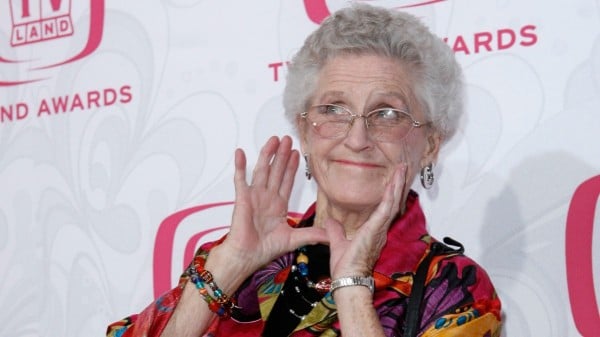 Ann B. Davis, who played the beloved housekeeper Alice in The Brady Bunch, died over the weekend.
New information is coming out about her faith and her life. The Associated Press reports:
For many years after "The Brady Bunch" wound up, Davis led a quiet religious life, affiliating herself with a group led by [Episcopal Bishop William] Frey.

"I was born again," she told the AP in 1993. "It happens to Episcopalians. Sometimes it doesn't hit you till you're 47 years old.

"It changed my whole life for the better. … I spent a lot of time giving Christian witness all over the country to church groups and stuff."
The snippets of her life are fascinating. This 1977 People magazine article paints a picture of a woman whose life was radically transformed by her faith:
Ann B. Davis, the wisecracking housekeeper of TV's Brady Bunch, has joined a new bunch—a religious commune in Denver. At 51, Davis, who also played Schultzy on the '50s Bob Cummings Show, gets her Rocky Mountain highs with 6:30 a.m. Bible study. "I was tired of show business—tired of running around with my head cut off," she says. Born an Episcopalian, Davis practiced her faith but "with little understanding of it." She often found herself alone with a drink after a hard day of rehearsing or during layoffs between series.

In 1974 when she was playing summer stock in Denver she met Episcopal Bishop William C. Frey and his family, who were planning to bring together several families under one Christian roof. "I decided to sell my house in L.A. and yield control to the Lord," the unmarried Davis says. She and 19 others, aged 3 months to 69 years, now occupy a remodeled Victorian home.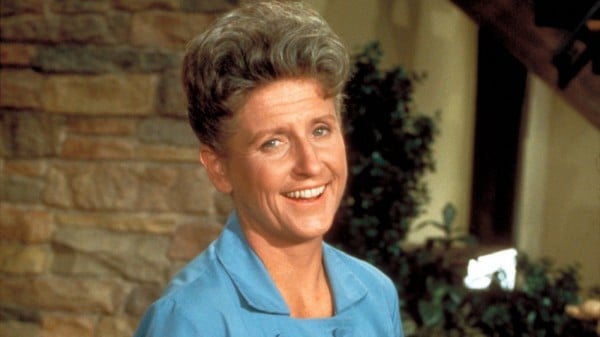 This later People Magazine profile of the Brady cast, written when the tragic news broke that Robert Reed, who played Mr. Brady, died of AIDS when that was a new, terrifying, and scandalous disease, paints a picture of contentment in Davis's life:
By the end of Brady's run—and after a 40-year showbiz career that included two Emmys for playing peppery gal Friday Schultzy on The Bob Cummings Show in the '50s—Davis realized that her life lacked the fundamental contentment of, say, Alice Nelson's. "I wasn't satisfied," she says. "I thought, 'What is it I haven't got?' " She explains the answer with a memory from her childhood in Erie, Pa.: "My mother would write letters when I was away at camp and say, 'There's an Ann-shaped space around the house. Nobody fills an Ann-shaped space except an Ann.' I'm convinced we all have a God-shaped space in us, and until we fill that space with God, we'll never know what it is to be whole."

Unlike Robert Reed, though, Davis did not consider the show hell on earth. The cast "got along beautifully," she says, and adds that as an avid knitter, "I had the boys hooking rugs and the girls doing needlepoint." Surprisingly, she says, "I basically don't do that well with children, although my sister [an identical twin, Harriet Norton, a mother of three living in Leonia, N.J.] says I'm a great aunt." Also unlike Alice, Davis hates to cook: "When it's my turn in the house, we just eat out."

Davis, never married, still acts occasionally (including a Canadian production of the comedy The Cemetery Club last year) but lives comfortably on her Screen Actors Guild pension. (She recently bought a bright red Mazda Miata.) And she takes classes—aerobics in town, theology at the seminary.

"It is obvious," she says, "I am where the Lord wants me to be."
This 1994 interview with the Orlando Sentinel (I love that she was sipping zinfandel as she talked) gives more detail:
For the next several years, she spent most of her time, three or four days a week, giving my Christian testimony. It was very exciting, while also doing laundry at a homeless shelter. She didnt work except to perform in an occasional Brady Bunch special or television commercial.

Three years ago, she moved with Frey and his wife to Ambridge, Pa., near a seminary. She began working in theater again. These days Davis spends free time stuffing my head with wonderful things, such as courses in church history, the Old Testament and gender roles in history at the Episcopal School for Ministry.
In 1989, her mentor Bishop William C. Frey resigned his position as Episcopalian Bishop of Colorado to become dean and president of Trinity School for Ministry. Trinity was an Evangelical seminary associated with conservative theology and the charismatic movement. Davis moved with Bishop Frey and his wife to live in in community with them there.
Frey was also a bit of a wild Jesus child. Frey and his family were also deported from Guatemala in 1971 for advocating there when he was Bishop of Guatemala.
NEW YORK, N.Y. — The Rt. Rev. William C. Frey, Bishop of the Episcopal Diocese of Guatemala, together with his wife and their five children, arrived in Miami, Fla., Sunday, October 3, under orders of deportation by the Department of Immigration of the Republic of Guatemala, according to Dr. Paul A. Tate, the Presiding Bishop's Deputy for Jurisdictions of the Episcopal Church.

The reason given by the Immigration Department for the expulsion of the Bishop was "interference in political affairs of the country."

Bishop Frey and nine other Christian leaders had signed a statement two weeks earlier "calling for the cessation of violence and restoration of constitutional guarantees," Dr. Tate said.
I love the picture this paints of the woman we knew as Alice. She was a Jesus person, a Christian hippy, someone who apparently joyfully gave up her stardom for a life that had more meaning to her.
We have heard so much of the sad stories of the former Brady Bunch cast, their addictions and sexual liaisons. How delightful to hear of something different.
Updated June 2, 2014 10:54