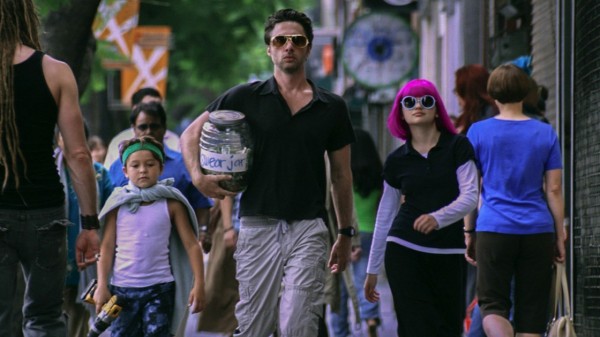 Despite nearly constant death in movies, from Transformers blasting away cities to sentient apes battling mankind, we rarely see onscreen the death drama that most of us will have to endure: The death of a loved family member.
Death, especially death of a parent, is one of those life events that profoundly shape who we are. Like falling in love or birthing children of our own, the days and weeks leading up to the death of someone we desperately need will be etched in memory. It will be somehow more vivid and meaningful than the work and play on which we focus so much energy.
Zach Braff, along with a talented cast, brings this intensely sweet and overwhelmingly sad time into focus in his sweet, funny, and insightful Wish I Was Here. Braff stars, directs, and co-writes the movie.
Aidan (Braff) frets and stresses through a tough spot midway through life. His only slightly successful dream to be an actor is supported by financially his wife Sarah (Kate Hudson) and his father Gabe (Mandy Patakin). Gabe pays the tuition for Aidan and Sarah's children to go to a conservative Jewish school, where Grace (Joey King) is segregated from the boys while younger Tucker (Pierce Gagnon) is bored to tears.
When Gabe is diagnosed with cancer, he needs his money for treatment, throwing the whole house of cards into disarray. Aidan, whose faith does not align with either his father or the bearded rabbis at the school, undertakes homeschooling his children.
But the gathering storm of Gabe's illness overtakes Aidan and his family. Gabe's man child brother Noah (Josh Gad) also cannot escape the inevitable.
The movie feels very close to the real experience of end of life. It becomes increasingly a mix of maintaining a version of surreal normalcy – shopping, schoolwork, date night – while simultaneously dropping everything to be present with fading Gabe. It seems strange that one should be, say, fixing a fence while grandpa lays in the hospital. But at the same time, what are we to do? Life goes on, even when we wish it wouldn't.
Mixed in are some truly funny moments with Zach Braff's brand of humor. Noah's main goal in life is to win a cosplay contest at Comic-Con, a conceit that is milked in all its ridiculous fanboy glory. Aidan's homeschool "lessons" increasingly become equally goofy.
At the same time, vitally important real life is happening. Unlike so many dark Hollywood movies about death and loss and regret, this is a movie about finding a way to say what needs to be said while there is time. It is a film about being there in a real way, even when all you have seems woefully inadequate. It's a movie about family loving each other in the midst of and beyond the disappointments and hurts that have separated them.
In other words, it's very real and very moving.
A large part of the journey each character takes is a journey of faith. Each family member has their own relationship with God, in a Jewish context. One of the beauties of this film is that it respects and honors each person's journey, even as it pokes fun at it as well. The rabbis are ridiculous and somewhat grasping, but they are also compassionate and occasionally wise. As the aggressively secular Aidan – he even eats bacon! – faces the questions raised by death, his tender beliefs are found to be quite deep. It's not God he needs to make peace with so much as the fait of his fathers.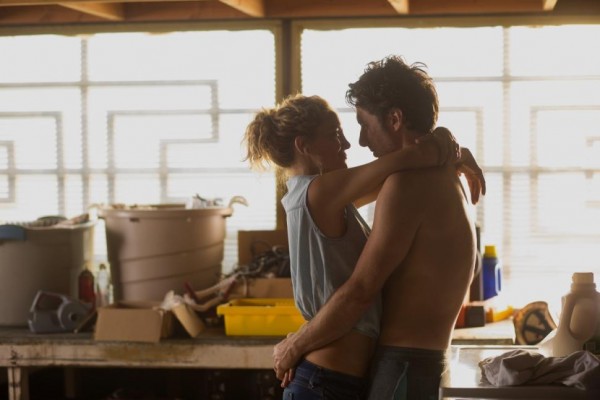 Kate Hudson is almost distractingly beautiful for the role, one wonders how a near loser like Aidan landed her, but she makes up for it by delivering a powerful and moving performance. Her calm and kind leadership, bold and compassionate truth-telling, and sweet nurturing of her family is a nice counterpart to the sexy vixens and feminist warriors we see onscreen. Hudson's Sarah consciously and joyfully embraces her midlife transition to matriarch of a family. It is a job that does not diminish her professional life, her feminity or power. In fact, it enhances it. She is up to the task. I wish there were more like her.
Although not as stylized or mystical as his previous hit Garden State, Braff's Wish I Was Here similarly blends deep themes and wry humor. He delves into human experience. It is a sad movie, but not maudlin. It explores faith, but doesn't preach. It makes you laugh, but not at anyone's expense.
It's a very good movie. I liked it very much.
 Wish I Was Here is rated R for pervasive language and sexual situations. Unfortunately, the sexuality will likely rule it out for all but the most mature teens, at parents' discretion. That's a shame because so much of the movie would be a benefit to watch as a family.