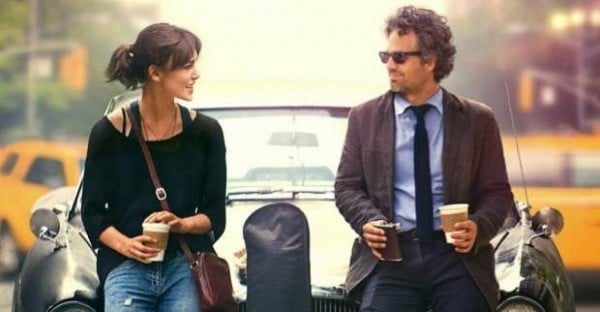 (Many thanks to Rebecca for giving me a trial run as film critic here at Patheos. In adding an atheist/secular humanist into the mix, I appreciate her willingness to diversify her writing crew. If you want to learn more about me, please check out my bio. But for now, let's talk about movies!)
If I were a writer of old school SAT questions, I might claim that Begin Again is to the music industry as Mr. Smith Goes to Washington is to American politics. Looking beyond this fantasy element, however, Begin Again is a delightful film about a handful of people groping their way through life's challenges, with lots of help from creativity and community.
By way of cleverly interweaving flashbacks, we learn that the movie's two main characters have each weathered a crushing day leading up to their chance meeting in an NYC coffeehouse. Dan (Mark Ruffalo) – already separated from his wife, estranged from his teen daughter, and abusing alcohol – was just fired from the indie record company he co-founded. Meanwhile, Gretta (Keira Knightley) hours ago discovered that her boyfriend of 5 years is cheating on her.
When Dan hears Gretta sing a simple tune about being alone in the city, his talent scout skills jolt to life. In an inspired piece of audiovisual work by director John Carney, Dan starts to imagine guitar-strumming Gretta accompanied by other instruments. As if played by invisible musicians, piano keys depress, and bows move across cello and violin.
In the following days, Dan persuades Gretta to record her compositions, and in turn she convinces him to produce her album. Next, they recruit a number of talented but obscure musicians. And in an effort to save studio costs and pay tribute to the beautiful mess that is New York City, they elect to record out of doors and all over town, incorporating the ambient noise of sirens and irritated neighbors into their songs.
If all of this sounds like a disastrous mix of clichés, a messy pastiche of Blues Brothers and Partridge Family, Begin Again manages to rise far above it. Carney, who also wrote the screenplay, has created characters with depth and flawed, warm humanity. His solid supporting cast includes Catherine Keener as Dan's estranged wife and Hailee Steinfeld as the daughter longing for her MIA dad. CeeLo Green has a small but winsome role as Troublegum, a now-wealthy musician long ago discovered by Dan, who gratefully aids a friend in need. And New York City plays a very satisfying part, too, lovely through its grit and soulfully distinctive boroughs, whether in summery brightness, the gloaming, or reflective nighttime.
Ruffalo inhabits his character very satisfyingly, but Knightley definitely steals the show. She convinced me a couple of years ago of her thespian gravitas as Carl Jung's deeply troubled yet brilliant patient in A Dangerous Method. In Begin Again, she successfully channels Audrey Hepburn's angular beauty, idealism, passion, and classy charm.
Unlike Hepburn, Knightley really can sing, helping to make this filmscore one of the best of 2014. Carney's dynamic camera movement and closeups convincingly reveal the joy of ensemble performances when they click. As Gretta's band performs in alleyways, subway stations, and on building tops, my toe tapped along to the infectious exuberance of their folk pop.
I liked, too, how the camera persistently returns to a splitter hanging off Dan's rearview mirror. This small piece of equipment allows two headphones to plug into a single input, so a pair of listeners hear the same music. What a pleasingly subtle bit of symbolism for the uniting power of art.
My biggest regret about this movie is the change in its title, originally shown last year on the festival circuit as Can a Song Save Your Life? This earlier catchier title communicates the healing, transforming effect of creative works. Perhaps someday I'll write here about the power upon my own life of such varied films as The Way, Red Beard, and Inception. No doubt each of you could also relate similar tales about personally meaningful movies or songs, even if they didn't save your life.
(Begin Again is rated R for language. As a parent, I'd be comfortable taking my mid-range teens to see this film.)
4 out of 5 stars