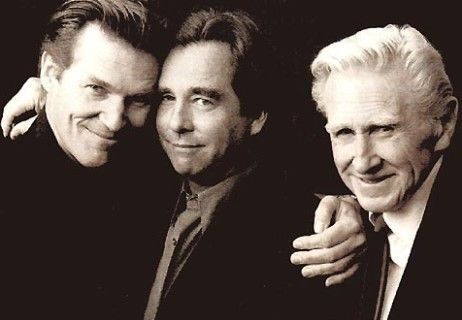 At Comic-Con, Jeff Bridges talked about a home movie adaptation of The Giver he made 20 years ago. He discussed it further in our phone interview yesterday.
There is however a video that I directed my father in 20 years ago. My brother's son Dylan played Jonas in this video adaptation of the book. His other son Casey shot it. My good buddy Bud Cort from Harold and Maude fame narrated it. We shot it and if we ever find this thing, it would be great to have a portion on the DVD as one of the DVD extras.

That would be kind of wild. I'm looking for it.
Sounds like quite the Bridges family project. Dig through that garage, Jeff! The world needs to see this footage.
Bridges also told a sweet story about his father and an event that shaped how the younger Bridges looks at the world:
The Family of Man. It was a photo essay and it was photographs of what it means to be alive on our planet. All the societies and cultures. The way we live is very rarified actually compared to the way the rest of the planet lives. My father pointed out 'This is our condition. We're all in this together. We're the family of man.' We've got to acknowledge that, and behave in that manner, that we're all in this together.

And that really stuck with me.
One of the things I received from my father, growing up, looking at him as The Giver, and I certainly do, both of my parents really gave me so much. I remember my dad bringing home a wonderful book in the late 50s early 60s, called
Jeff Bridges puts that in action by supporting, lobbying, and being a spokesman for hungry children via his End Hunger project.
Photo: Jeff, Beau, and Lloyd Bridges in 2011 when all three were honored for their service to the Coast Guard. (Another interesting Bridges family story.)