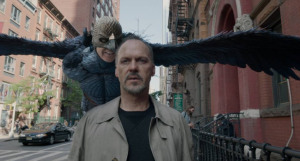 Considering its full title, Birdman or (The Unexpected Virtue of Ignorance) is about as quirky and odd as you'd anticipate.
Its technique, in telling the story of a narcissistic has-been actor striving for notice and acclaim, is truly virtuosic. In a manner worthy of Scorsese, the restless camera twirls, trails behind its lead, and seamlessly moves through closed windows. Its score, by jazz drummer Antonio Sanchez, splendidly mirrors the antsy psyche of Riggan Thomson with its dissonance and unexpected bursts of sound.
For Riggan (Michael Keaton) is in the midst of a total breakdown. Following a trio of lowbrow superhero movies (hence the Birdman title), he has self-pityingly wallowed in obscurity for years. In a desperate grab for praise, he has written a play for Broadway, in which he's also the director and star. Alas, the previews are not going so well, with money troubles only the tip of the iceberg that threatens to sink his frantic hopes.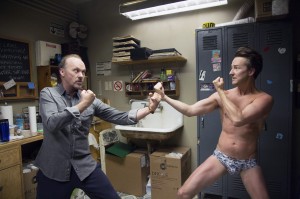 Such practical worries aren't aided by the fact that Riggan is psychologically fragile and miserable (as if narcissists come in any other variety). But now, he's lost touch with reality. From his vantage point, he can telekinetically move objects and instantly summon a superb actor to replace his dud co-star. Not to mention that his Birdman poster is talking to him and constantly putting him down.
All of this is handled with a pleasing comic touch and accompanied by surprising plot twists. Along with Riggan, we're frequently disoriented as to whether we're witnessing events in reality or a fantasy realm. The dialogue is more hit or miss, however. For every line that's spot on ("popularity is the slutty little cousin of prestige"), there's another that's too neat or clichéd.
Michael Keaton was certainly a good, even bold, choice for the lead, considering that his own career trajectory resembles that of his character (who wants to go see Herbie Fully Loaded?). But much as Riggan would hate to read this, Keaton's acting is overshadowed by the performances of three of his co-stars. Edward Norton delights as uber-talented, insecure, and misanthropic Mike, uneasily sharing the stage in Riggan's play. Emma Stone is equally superb as Riggan's fresh-out-of-rehab, neglected daughter Sam. Amy Ryan, despite her brief time on screen, again reminds us that she deserves more roles to display her abundant talent. Here she plays Riggan's ex-wife Sylvia, with each of them still feeling more than a spark of tenderness and affection for the other.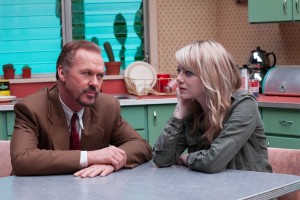 Despite all these strong points, I have to confess that it took a while for Birdman to even partly win me over. A tale of a washed-up but once top-billed actor doesn't elicit automatic sympathy from me, considering that there are thousands of waiters and waitresses in New York and L.A. who would surrender a kidney (without anesthesia, to boot) to win the roles and public affection attained even briefly by a Riggan Thomson. And none of Birdman's characters work hard, at least initially, to earn our compassion.
However, taking a few steps back, I think Birdman does speak to us plebeians, too. All of us, after all, are the center of our own universe and are wired to distort reality in our favor. All of us seek significance, to produce something that will endure. In the process, we risk overestimating our own importance and neglecting the people (not projects) who matter most, as we come to terms with our transience and mortality. Birdman communicates these points quite effectively, most notably through the interactions between Riggan and his daughter.
Unfortunately, with Birdman's name-dropping and references to the Shiva-like power of New York Times' stage critics, I can't shake the feeling that director and co-writer Alejandro Gonzalez Inarritu was smugly aiming his film at a narrower in-crowd than obscure cinema patrons. And that's a missed opportunity for all of us, high and low.
3 out of 5 stars
(Parents' guide: Birdman is rated R for pervasive language, some sexual content, and brief violence. I would discourage parents from taking younger teens to see this.)