A few days ago I published this photo on my Facebook page. Within an hour it received over 100 likes. A full 24 hours after I posted it, the picture had been liked over 350 times (most ever on anything I've posted) and at last count 61 people had commented, most expressing their delight and amazement. I knew Francis was popular and, although I am not Roman Catholic, I have great respect for him. But even as I have read the moving stories and seen the pictures of his compassion in action since he became Pope, I do not think I fully realized just how beloved he is. Not everybody esteems him, but there is no doubt that Francis loves them.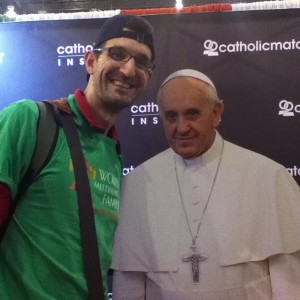 I would love to meet Pope Francis one day. This photo is NOT real. I was in Philadelphia for the day for a few sessions of the World Meeting of Families (which is on the Pope's itinerary tomorrow) where there were dozens of life-size cardboard cutouts of the current Pope (as well as Benedict and of John Paul) scattered throughout the Pennsylvania Convention Center. Thinking that most people would recognize this as a fake (a few did) I marveled at the response of my friends who are from many nations and hold a wide range of political, philosophical, and religious views. (Also, as an aside, were I to actually meet the Pontiff I would never be dressed like that and most definitely wouldn't be wearing a hat on backwards.) I want apologize for misleading you, friends in Facebookland; this was some belated April 1st humor. Having such fun on social media can be a dicey endeavor.
I do not share several theological claims my Roman Catholic friends espouse, but I do regard them as brothers and sisters in Christ. I also believe that there are Catholics AND Protestant Christians who are not following Jesus, but this is not a post about them.
So while I disagree with some of his theology, what I appreciate so much about Pope Francis is his heart. He loves outrageously and unconditionally. I want to love people with the same kind of selflessness. As for the political conversations surrounding his visit, I found this bit from a recent article in the Atlantic to be particularly on-target.
Francis does not fit neatly into American categories. To understand him and his agenda, it's more helpful to look at America through his eyes than to look at him through an American's eyes, for even the most familiar U.S. issue may seem very different to this Argentinian Jesuit. As the pope makes his way from Cuba through Washington, D.C., New York City, and Philadelphia, here are a few things to keep in mind.

First, the American political spectrum is truly idiosyncratic. This is a country where a Democratic congressman can loudly oppose the death penalty on moral grounds, but can't risk really opposing abortion; a Republican might care a lot about the poor, but woe unto her campaign coffers if she suggests raising taxes on the rich. "Francis, like all the other popes, like the Catholic Church, simply doesn't land comfortably on either side of the political divide in the U.S.," said Vincent Miller, a professor of theology at the University of Dayton. "But it's not simply that on questions of sexuality, and human life he agrees with Republicans and on questions of economics he agrees with Democrats. The whole system is so skewed."
For all the politicking about what the Pope has said and done and what it means for our society, I find his pastoral presence here in the United States at this time in our history really refreshing. He may not have any biological children of his own, but he's a dad if there ever was one. Had I snapped a selfie with a movie star, might I have gotten a similar response? Maybe. But what I sensed in the response I got was more than a simple "Oh, how cool."
People are hungry, desperately hungry, for a Father's love. Pope Francis gets it and manages to display that through an institution not short on religious bureaucracy. Though I wish he would have shared a little more about what it means to know Christ in his speech to Congress yesterday, this follower of Jesus is grateful for what he carries.
_________________________________
Photo Credit: Brandon Showalter