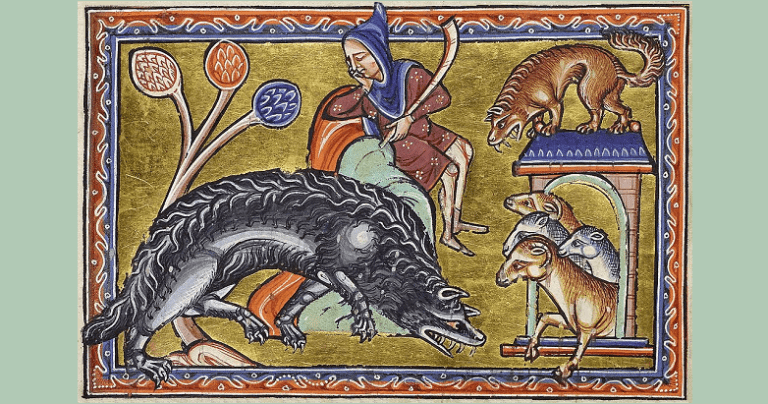 Love asks us to live in its image,
after its likeness, in God's own image.
John 21:15-19 for Friday of the Seventh Week of Easter.
Today in his Gospel, we hear Christ ask for love: Simon… do you love me more…?
Before his death, Christ had said:
I am the good shepherd.
The good shepherd lays down his life for the sheep.
He who is a hireling and not a shepherd,
whose own the sheep are not,
sees the wolf coming and leaves the sheep and flees. [Jn. 10:11-12]
And just so, in the garden of Gethsemane, Simon Peter saw the wolf come to arrest Christ, and Simon ran away.
But today in his Gospel, Christ risen from the dead commanded Simon four times to be a good shepherd and follow him.
Feed my lambs.
Tend my sheep.
Feed my sheep.
Follow me.
Nonetheless, Christ the Good Shepherd foretold that Simon would in the end lay down his own life for Christ's flock, so that by death he would glorify God.
The words of Christ the Good Shepherd will sound at the altar in a few moments.
From his altar, Christ truly upholds himself as the Lamb of God: in his true Body given up for us, and in his true Blood poured out for us in death by which he glorified God the Father.
Sometimes we flock as sheep to Christ, and we hear his voice, as he would have it, and we follow him, as he would have it.
But at other times we may tear into him as wolves, wanting our own way, thinking Christ is there merely to satisfy our needy hungers.
And, at other times, like hirelings, we take our pay from the altar, but then we run away, frightened of the work Christ gives us.
From his altar he invites us to eat and drink the new and eternal covenant in his Body and Blood, and to do what he does in memory of him.
… this is my Body… given up for you.
… this is… my Blood… poured out for you….
Do this in memory of me.
And so, in memory of him, we turn to his Body and Blood with his Gospel burning within us.
… do you love me more…?
Follow me.
Turn. Love. Repeat.