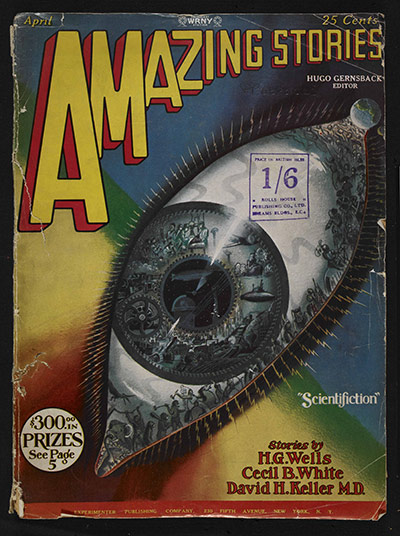 There's always been more fiction than explicit philosophy on this blog and, in C.S. Lewis's Of Other Worlds: Essays and Stories, he puts his finger on why I like sidling up on meaning of life questions in this way.  Lewis is discussing various subtypes of science fiction — starting with the ones where plot and character take a back seat to the author showing you a clever engineering problem and ending up here:
In all these the impossibility is, as I have said, a postulate. Something to be granted before the story gets going. Within that frame we inhabit the known world and are as realistic as anyone else. But, in the next type (and the last I shall deal with) the marvellous is in the grain of the whole work. We are, throughout, in another world. What makes the world valuable is not, of course, mere multiplication of the marvellous either for comic effect (as in Baron Munchausen and sometimes in Ariosto and Boiardo) or for mere astonishment (as, I think, in the worst of the Arabian Nights or in some children's stories), but it's quality, it's flavour. If good novels are comments on life, good stories of this sort are (which are very much rarer) are actual additions to life; they give, like certain rare dreams, sensations we never had before, and enlarge our conception of the range of possible experiences. Hence the difficulty of discussing them at all with those who refuse to be taken out of what they call 'real life' — which means, perhaps, the groove through some far wider area of possible experience to which our senses and our biological, social, or economic interests usually confine us.
One of the reasons I've always liked science fiction is that it took human nature and tried to figure out which parts of it were needed for us to still recognise each other as human.  How much of our current idea of being human is tied too tightly to current trends and culture   How would we behave if we were exposed to different stresses?  What could we give up or augment before being too alien to still belong to our tradition?
Fiction doesn't just give us the opportunity to think new thoughts, it gives us the chance to do it with training wheels on.  It's a lot easier to think about Javert, notice problems, and notice that I share them than it is to just introspect and expect to come up with true beliefs on a subject where I have a lot of bias.  Fiction (like my LARPing strategy) lets us encounter possibly threatening ideas without setting off our defenses.
And, for me, anyway, it's also been a way of encountering ordinary, no-LEDs-in-eyebrows people without setting off defences.  Fiction helps make it clear that people (even people who disagree with you) usually act in ways that feel intellectually consistent from the inside.  So it was fiction that helped me start to catch on to the typical mind fallacy.  The most tempting thing to do is to just treat other people like they're speaking French, and make sure I'm translating, but getting first or third person limited views of other people's minds helps make me curious about what it would be like to try on a different disposition and what I might lose or gain.