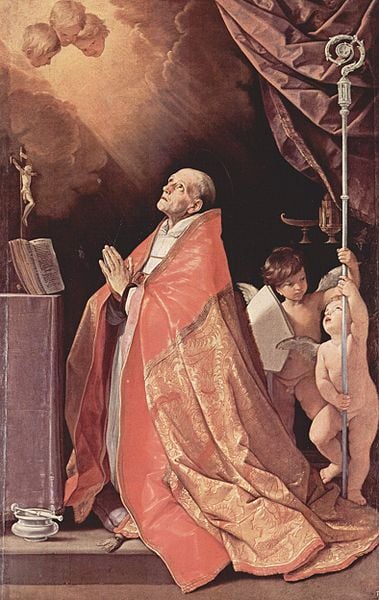 Yesterday, I had a lot of trouble making it to church for the Feast of All Saints.  All Saint's Day is a Holy Day of Obligation for Catholics, and it's the feast of all those in the Church Triumphant — all the saints, recognized on earth through canonization and those unknown to us, but sharing in the beatific vision.
Unfortunately, as I'm in a more rural area teaching at a work event, we had to deal with poorly-marked, poorly-lit signs, and spotty GPS to get there.  Around the third time we passed the church without being able to turn in (though at least this time we managed to avoid being forced onto a highway), I complained, "Truly it is easier for a camel to pass through the eye of a needle than for us to reach St. Augustine's."  All this tsuris from a church named for my confirmation saint, too!
I've still been exploring the panoply of saints only slowly, but, especially as one of my good friends and best kibbitzers on the saints has entered her postulancy with the Dominicans, it falls to me to take more of the initiative.  So, I think at the beginning of each month, I'm going to dial up a saint, via Jennifer Fulwiler's Saint Generator, and try to pay special attention to that saint over the course of the month.  Perhaps sometimes I'll try to look for the saint's writings or biographies of them, sometimes I'll pay attention to the spiritual practices of their order (if they were vowed religious), or I'll just wonder what would obviously have to change in my life to more closely resemble theirs.
On this first attempt, I pulled St Andrew Corsini.
St. Andrew Corsini was a peacemaker and is especially likely to be invoked in prayer to forestall riots and civic disorder.  He was a Carmelite friar, and, eventually a bishop.  And this is the part I feel compelled to quote:
After being elected to the office of Bishop of Fiesole, which he did not want, he fled. He was discovered by a child at the Charterhouse at Enna, and was subsequently compelled to accept the honour.
I'm not yet sure how I'll come to know St. Andrew Corsini over the course of the month.  He does not appear to have outstanding writings, so I might try to learn more about and experience Carmelite prayers and practices.
I do like that he's best known for making peace between nobles and commoners.  Personally, I like working on anything that feels like translation, where I can help people understand each other better by translating analogies or references from one culture to another.  But the story of Corsini fleeing the episcopate makes me suspect he approached it in a different spirit.
I like translation both for the thrill of making a connection and forging a link between two frameworks, but also (embarrassingly often) because it makes me necessary.  I take pride in knowing each side well enough to translate for the other, and feel a little excited to be a chokepoint, without which the relationship would crumble.
So perhaps I should look for opportunities to peacemake where I have no comparative advantage and can only empathize and provide emotional support, so my focus is on service, not cleverness.  Or perhaps I should ask Corsini for help in making myself redundant, and not forcing others to continue to depend on me, but letting them build ties that are stable without me.
If you are using Jen's generator to seek a patron saint for November, I'd be interested in how you plan to seek them out and get to know them better.