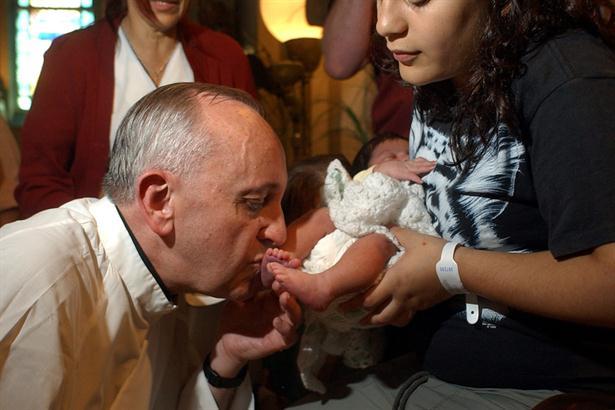 The Rolling Stone cover story on Pope Francis is frustrating.  A big, researched feature piece should be better fact checked than to repeat misconceptions about the Pope's "near absolute" power and to imply that the Pope is frequently infallible or, worse, all knowing.  The author is a bit distant from Pope Francis himself, mostly using him as a cudgel to beat Pope Benedict, Cardinal Dolan, Opus Dei, and others.
The profile makes Francis, and his alleged antagonists both bigger and smaller than life.  They become archetypes, instead of people.  Benedict is described as "a staunch traditionalist who looked like he should be wearing a striped shirt with knife-fingered gloves and menacing teenagers in their nightmares."  Benedict certainly wasn't as smiley, but there is palpable joy (albeit bookish — wait, why would that ever be tempered with 'albeit?) in his three-volume reflection on the life of Christ (The Infancy Narratives, From the Baptism in the Jordan to the Transfiguration, Holy Week: From the Entrance Into Jerusalem To The Resurrection).
The author of the profile seems a more ready foil to Pope Francis's personal, generous approach.   In his interviews, Pope Francis talks about himself as a sinner, and his introspection seems to fuel his sympathy for and joy in others.  If Pope Francis had written this feature, I imagine it would have been a lot longer, with frequent digressions, a fascination with each subject, and an effort to appreciate the good they sought, even if correction was needed.  But, ultimately, the mismatch between the subject of the piece and its tone left me feeling jangled.
Though I did really like this excerpt:
Eventually, he moves to greet the crowd. Benedict, a dour academic, kept this portion of the general audience to a minimum. But Francis, like Bill Clinton, thrives on personal contact, and he spends the better part of an hour greeting believers. Next to the dais, a rowdy hometown team of Italians, a couple of whom spoke loudly on their cellphones throughout the pope's sermon, have their cameras out like paparazzi. "Papa Francesco! Papa Francesco!" they shout, shrilly and incessantly, trying to get the Holy Father of the Catholic Church to gaze in their direction. The most shameless hold up children. "Papa Francesco!" they cry. "I bambini! I bambini!"
Because of course the crowd knows that Pope Francis can be easily summoned by babies.  Even better if you're feeding them.
Instead of the Rolling Stone profile, I heartily recommend today's post on Dominicana by Br. Innocent Smith.  The media have been fascinated by Pope Francis's tendency to carry his own briefcase, but Br. Innocent reflects on the contents of the valise:
Pope Francis responded with characteristic good humor:

It wasn't the key for the atom bomb! Well! I was carrying it because that's what I've always done. When I travel, I carry it. And inside, what was there? There was a razor, a breviary, an appointment book, a book to read, I brought one about Saint Thérèse, to whom I have a devotion. I have always taken a bag with me when travelling—it's normal. But we must be normal…I don't know…what you say is a bit strange for me, that the photograph went all over the world. But we must get used to being normal. The normality of life.

…The attention of the public may have been caught by the briefcase, but I am more intrigued by the breviary. As a cleric and religious, Pope Francis is obliged to recite the Divine Office (also known as the Liturgy of the Hours), a form of Catholic prayer that is contained in a book frequently referred to as a "breviary." The breviary is a collection of psalms, prayers, scriptural readings, and writings of the Fathers and saints of the Church. These different elements are arranged to be sung or read at different times throughout the day in a cycle that parallels the different seasons and feasts observed in the Mass. The recitation of the breviary immerses the reader into the Bible and the spiritual tradition of the Church, allowing the reader to be nourished not only by the readings and prayers of the Mass but also by a whole constellation of psalms and prayers that extend the praise and thanksgiving of the Mass throughout the whole day.

For Pope Francis, reciting the breviary, like carrying a briefcase, is something normal—after all, he's been doing it for more than fifty years! In addition to its being part of the normality of life, the Pope has indicated that praying the Divine Office is something he enjoys: "I pray the breviary every morning. I like to pray with the psalms."
A week later, when asked by a journalist what was in the now famous briefcase, 
That is what I like best about Pope Francis.  He makes joy and charity look normal, until the most surprising thing is that we ever came to believe this spirit wasn't our natural inheritance.  But he isn't just a good man for generic reasons; he connects back his kindness and hope to his faith, and to the rich spiritual traditions of the church.  And, once again, makes this look as natural as turning at a cry of "I bambini!"
This is part of why I asked you for advice about how to talk about my religion when someone asks me a question that is, to them, unrelated.  There's a lovely honesty in Pope Francis's approach, where his faith spills out of him as immediately as his joy.  There are plenty of jokes about his tendency to sound unfiltered when he gives interviews, but this openness seems to be the fruit of being so true internally that he "cannot then be false to any man."  As someone who's a good deal more distant and guarded, I'd like to have the ability to share my happiness at Pope Francis's level of person-to-person communion, but I think I more closely resemble the Rolling Stone writer.