Every year, I like to make a list of my favorite books I read for the first time in that year. Thus, my ten best books of the year aren't limited to those that came out in this year. In chronological order of when I read them, these are my favorites.
Oh, and if you'd like to get once-a-month, behind the scene updates about my book, Arriving at Amen: Seven Catholic Prayer that Even I Can Offer, you can sign up here — my first email goes out on Monday, and includes the copyediting note that amused me most.
This book is two books. Yang wrote paired graphic novels, set during China's Boxer Rebellion. One follows a young boy who joins the Boxers, the other a young girl who converts to Christianity. You can read either story in isolation, but they're meant to be read together — the two protagonists come into conflict. I got this as a Christmas present and read both books in one sitting (with a fair amount of crying).
I'm going to just sneak in a little hat tip to another great graphic novel I read this year: Brennan Lee Mulligan's Strong Female Protagonist, which features a super-strong heroine who figures the world needs more from her than a great right hook. It made me cry, and you can read the story online.
I think the YA, WWII historical fiction was also a one-sitting read. Wein does a fabulous job with the voices of her two narrators (an English spy and a pilot — two young women who were close friends before the spy was caught in occupied Paris). It definitely goes on my list of excellent, exalted friendships in literature.
There's a very clever trick about part of the novel that I can't mention here, but I found very satisfying. I recommend looking at the initial preview pages on Amazon; I read the first few pages in the public library and then walked out, still reading.
Markides is a very good guide to Mount Athos, one of the centers of Orthodox monastic practice. I tend to spend a lot less time reading about the Christian mystic tradition, and I found this book richly immersive. Markides blends reporting and interviews on present day Mount Athos and Cyprus with historical background, theology, and his own personal reflections.
This is one of those books that gave me names for concepts that I didn't know I needed, but found intensely helpful once I'd have them offered to me. I blogged about one of these in "Logismoi, Vampires, and other Intrusive Thoughts."
I know I've already spent two posts (at least!) recommending this to all y'all, but I stand by my enthusiasm. Eve does a beautiful job highlighting opportunities to live out (and backstop) vocations to love that go beyond marriage and monkhood. I've had a lot of fruitful conversations rooted in this book, and I think it would make a fantastic text for any book clubs, church discussion nights, etc that you might belong to.
Jamison's book is the only one of this best of the year list to wind up being cited in my book. I've given it as a gift, made dinner for people in order to get them to read and discuss some of the essays with me, etc. The most recommended essay from the volume tends to be the title one (which I do recommend!), but let me also make a pitch for trying out "The Devil's Bait," since Jamison's trip to a conference for people suffering a possibly-psychosomatic disease makes for another great meditation (on philosophy of medicine/wellness topics close to my heart).
It wasn't until after The Empathy Exams came out that I realized that Leslie Jamison had written so many essays that I loved (I'm bad at looking at bylines), and I was excited to be able to buy it — as much so that I could give Jamison some money in appreciation as so that I could have all the essays collected together. That's also how I feel about Carroll's tightly written/illustrated horror stories. She's (terrifyingly) inventive — her stories are original, and so vivid that it feels odd to me that they didn't exist already.
If you don't want to try her horror, try her retelling of "The Three Snake Leaves" to be safe [you need to click at the end to keep going through the story]. And, if you want one of the scary ones, go with "His Face All Red."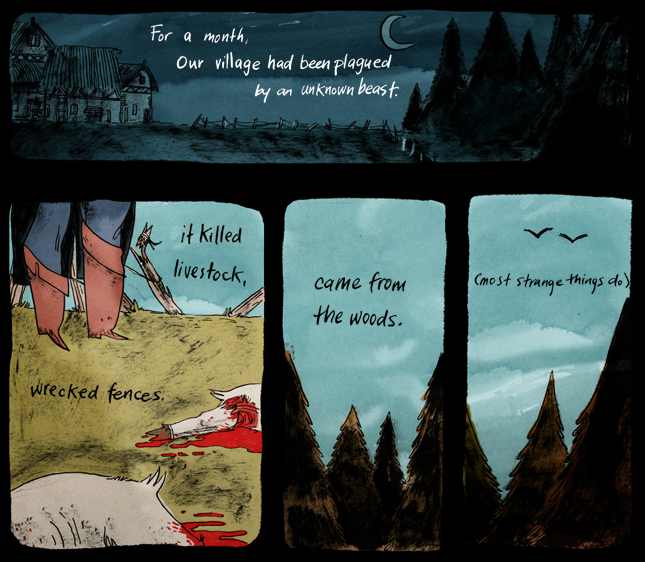 What kind of year would it have been if I hadn't found a really good history/philosophy of medicine book along the way? Watters does some really interesting, vivid reporting of how other cultures have understood mental illness (and how the approach of their doctors and the course of a disease have changed as the mental health landscape has homogenized). There's a lot of fascinating history here, but I particularly liked it for the way the case studies challenged some of my ingrained assumptions about how to talk about/respond to mental health problems. It's a book that expands your conceptual repertoire, and then you can decide which foreign ideas are worth importing.
I'd never read it! (And it was only a dollar for kindle). Often, when you go back and read an origin-of-the-genre book, there's a bit of disappointment, since you've seen the tropes riffed on often enough for them to feel hackneyed. But I didn't feel that way at all here. The book makes excellent use of its epistolatry/found document format, and, it turns out that although I knew about the monster and some plot points, I still had a tremendous feeling of suspense all the way through.
(Also, for Catholic readers, it's interesting to run into the profound reverence the non-Catholic characters have for the Eucharist — they have special dispensation to use it fight Dracula, apparently — which reminds me of this.)
I owe Christian H a thank you, because not only did he write a great guest post on welcoming people with depression into the church, he recommended this book in his post, which is how I came to pick it up. Like Markides's book on Orthodox mysticism above, this book does a fantastic job blending history, memoir, interviews, biology, etc to chart out what depression is, how people have coped, what it feels like to be in its grip.
Pretty much all of us know someone who's had a bout with depression (even if the person you know hasn't outed themselves to you). This seems like one of the big areas where if we all do more reading and listening, we'll be able to love people with acute problems better, and we'll find there are a lot of curb cut benefits for people who aren't clinically depressed themselves. Solomon's book is the best I've read on the topic.
Finally, right near the end of the year, I finally picked up the copy of Ponder these Things that I'd had sitting around forever. And I'm very glad I did (and particularly glad it was right around Advent!). Frankly, I think Williams's triptych of meditations would make a nice introduction to Christianity for anyone you know who's interested. It certainly won't tell a reader about every nuance of doctrine or praxis, but it does a very good job of giving you a glimpse of what God's love is, what it asks, and what it would look like to return it.
It's the kind of book that leads you further up and further in to other prayers and reading.
You can also check out my favorite books of 2013 here, and I'd love to hear about some of the top picks from your year of reading in the comments.
For more Quick Takes, visit Conversion Diary!