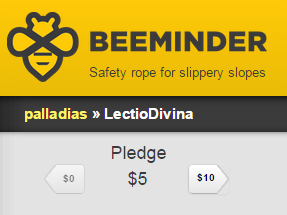 Today, I'm over at the Beeminder Blog, with a guest post on ways to use Beeminder to help organize my spiritual life… without ending up with a weirdly corporate or Pharisaical vibe.  Beeminder is a service that makes it easier to do in the short term what you mean to do in the long term, by letting you take out a contract on yourself, where you have to stick to a certain commitment of decades of the Rosary/week, time spent in bed/day, etc, or pay a penalty.
There's something a little weird for me, intuitively, about beeminding parts of my spiritual life. After all, in Romans 12:19, it is written "Vengeance is mine; I will repay, saith the Lord." So, if I turn to Beeminder to keep track of my prayer practices, am I introducing an unnecessary (or worse yet, idolatrous!) enforcement middleman?

Prayer is supposed to come from the heart, so is there something weird about graphing it and setting up my own penalties if I don't measure up?

My answer is, yes, it's a bit weird, but so is most of my prayer life. I'm a convert, so I've had to pick up prayer as a second language, but, even for people who are raised religious, spiritual life is a process of growth, which means it tends to include a lot of awkward stages. I've found it useful to "cheat" a number of ways in my prayer life, from seeking out opportunities to pray in community (where I feel more natural and less self-conscious) to praying while walking on my commute (the one reliable fixed point in my schedule). Beeminder is one of a number of hacks I've used to help me get over initial resistance to a new ritual or habit.
Two bonus notes:
I didn't realize, until I was writing this guest post, that Beeminder tends to put little easter eggs in the hovertext of all the links of their blog posts.
When I was writing the post, I used, hypothetically, the idea of beeminding lectio divina as a way to make sure I make space for a practice I find nourishing, but never seem to do.  Once I wrote it, it seemed like a pretty good idea!
So I have set up a lectio goal (one instance of lectio divina per week, total time unspecified, to keep me from shying away for fear of a major commitment — even reading, meditating, praying, and contemplating on a single verse would count and would improve the spiritual status quo).