Sorry for the low posting volume, folks — I've spent the last two weeks in New York City and Boston, doing book talks, radio, science museum trips (ok, that last is not technically related to *publicizing* Arriving at Amen, but it is totally in the spirit of the book), and I've been a little tuckered out.
The train trips did give me a lot of time for reading of my own, though, so here's the rundown of what I read while trying to entice people to read my book:
Everything was a first time read except Tartt and the Cromwell books, and The Kernel and the Husk is from my reading list for 2015 (only nine left!).
One other pleasure I got to revisit on this trip was the Boston Museum of Science, where I got to see the world's largest Van der Graaf generator (read: lightning machine). When I was an intern at the museum, I got to be inside the machine for one of the lightning shows (safely inside a Faraday cage). This time, I had to content myself with lying on a bed of nails, instead.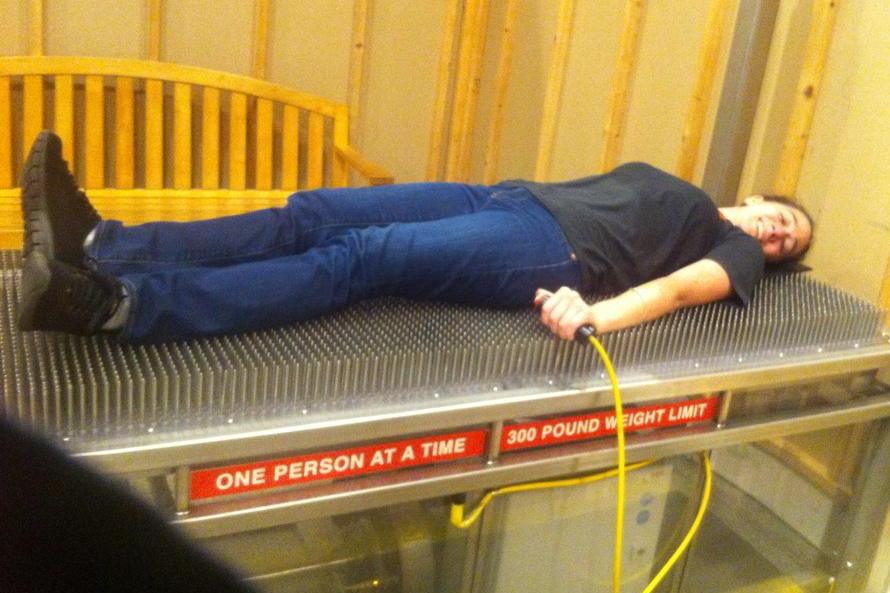 I back home after midnight last night, but now it's morning, the library is open, and I can go pick up all the holds that turned up while I was away.
And if you're looking for non-book reading suggestions, may I suggest Kate of Gruntled and Hinged? She hosted me for one of my nights in Boston, is one of the most thoughtfully compassionate people I know, plus the two of us have a great deal of fun cribbing from each other's Goodreads feeds.