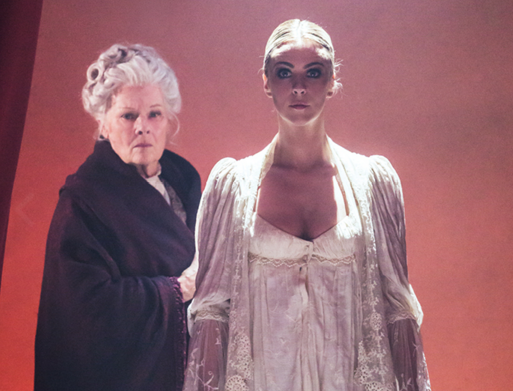 I really enjoyed seeing a broadcast of Kenneth Brannagh's The Winter's Tale (and, if the taped version becomes more widely available, I highly recommend it). I'd only seen it once before, and one thing that changed for me when I saw this new one was that I couldn't simply see Paulina as a pure heroine anymore.
In The Winter's Tale, the king falsely believes his wife to be unfaithful, and he hounds her (he thinks) to death and orders her infant exposed to the elements. Paulina is the one who orchestrates the play's resolution, concealing the queen, preventing the king from remarrying, and eventually restoring the queen after the king has realized his error and mourned (I'm compressing a lot here). I liked her for being a Prospero-like figure (magic and all) who puts all things right.
But when I saw Judi Dench in the role, I wasn't so confident that Paulina had the situation in hand. She leads the king into an endless life of penance, and casts herself as his scourge. They both seem equally trapped in despair. Watching their grim folie à deux reminded me of Leslie Jamison's discussion of "wound-dwelling" in her essay "Grand Unified Theory of Female Pain."
What's fertile in a wound? Why dwell in one? Wounds promise authenticity and profundity, beauty and singularity, desirability. They summon sympathy. They bleed enough light to write by. They yield scars full of stories and slights that become rallying cries. They break upon the fuming fruits of damaged engines and dust these engines with color. And yet—​beyond and beneath their fruits—​they still hurt. The boons of a wound never get rid of it; they just bloom from it. It's perilous to think of them as chosen. Perhaps a better phrase to use is wound appeal, which is to say: the ways a wound can seduce, how it promises what it rarely gives. My friend Harriet put it like this: "Pain that gets performed is still pain."
In Aleteia today, Alexi Sargeant goes further, and explains how we, like Paulina, can make repentance a wholly personal project that leaves no room for God or for grace.
When we become aware of the evil we have done, we should detest it. That is contrition. The problem is, Leontes becomes just as obsessed by contrition as he was once by jealousy. We are told that, for sixteen years, the king "shuts up himself," living in virtual isolation to torment himself with recollection of his crimes. He seems to have no hope of forgiveness. This is a temptation we can recognize too. The shame of sin can be paralyzing, can hold us back from asking for God's absolution: it seems like too much to ask. This is, of course, a perversely prideful thought. Who are we to cling to our burden when God offers to take it up?
The Triduum begins today, and as Lent comes to an end, it's important to remember not to dwell in the loneliness of Holy Saturday all year.