This guest post was written by DeWayne R. Stallworth.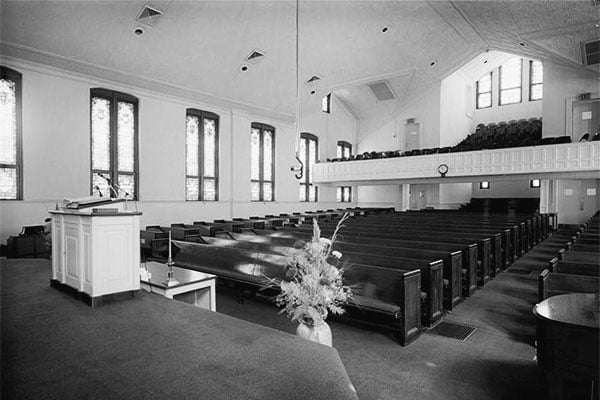 Dr. Martin Luther King, Jr. once stated, "The ultimate measure of a man is not where he stands in moments of comfort and convenience, but where he stands at times of challenge and controversy." The same dictum can be applied when analyzing the challenges associated with religious bias and LGBT inequality, especially within the black church. These issues should have a pronounced platform in the black church, which has had the lived experience of challenging oppressive societal systems that were anchored in religious rhetoric. In the same vein, the LGBT community endures an exorbitant amount of hate via a religious interpretation regarding what is morally proper.
Within this same faith community, some indeed argue that God is opposed to same-sex relationships; as a result, such persons present themselves as diametrically opposed to the notion of same-sex happiness, love, marriage, family, and sexual intimacy. It is important to note that such a discriminatory perception is rooted in a religious interpretation regarding God's relational will for humanity. This is a tautological debate which the black church must refuse to entertain and/or engage. Rather, the black church should be committed to conversation regarding pragmatics which promote the love ethic of Jesus Christ.
Cultural advocacy is a definitive component of Jesus' philosophical and theological mandate of assisting "the least of these." As such, cultural advocacy (also known as social justice) must be connected to religious compassion and understanding for all peoples of the world. Jesus the Christ, the manifestation and representation of God, has a bent toward addressing the need of the individual, regardless of the label society places on that person. Rather than capitulate to rhetorical opinions regarding religious morality, the black church must categorically lend itself to the conversational ethos of Jesus Christ; that is, perennially advocating for equality, justice, and love.
The black church must be fundamentally committed to promoting intellectual curiosity via means of dialectical appraisal. For instance, is God asking the LGBT community to wait for equality? If so, one must intellectually grapple with the legitimacy of a holy and just God. If God is not asking the LGBT community to wait for equality, why are representatives of God deviating from divine mandates of justice and love? Are black congregations doing to the LGBT community that which was done to them in terms of the "wait" philosophy?
The notion to "wait" for justice is a theological issue that has been challenged throughout the annals of history.
According to Dr. Martin Luther King, Jr.
, "Any law that uplifts human personality is just. Any law that degrades human personality is unjust." He went on to write, "We will have to repent in this generation not merely for the vitriolic words and actions of the bad people, but for the appalling silence of the good people. We must come to see that human progress never rolls in on wheels of inevitability. It comes through the tireless efforts and persistent work of men willing to be co-workers with God, and without this hard work time itself becomes an ally of the forces of social stagnation."
During the Civil Rights era, King became particularly disappointed with the white church as they were supposed to have a bent toward addressing the concerns of the oppressed. Instead, the white church in the South became complicit in the unjust actions perpetrated by the ideological premise of white religious arrogance and supremacy.
Religious education should provide a means by which one is systematically enlightened regarding the omnipotent, omniscient, and omnipresent nature of God. However, maintaining the status quo of a cultural faith tradition often produces a sense of security in terms of privilege and power. For instance, engaging in traditional tenets of cultural faith may afford one the opportunity to rest in the corridors of dogma, to which familiarity provides a sense of ease and comfort.
Religion should be a remedy, not an agent, to social ills of the world. But religious belief does not act on its own accord. Just the opposite, religion is comprised of volitional beings interpreting the divine within the context of personal tradition and lived experiences. In essence, the fight for equality for the LGBT community will progress more rapidly once religious practice aligns with individual social concern and understanding.
The time for such an action is now. The black church must stand in solidarity with our LGBT brothers and sisters. When black folk were rejected from the overall American societal inheritance of equity and equality, it was courage within the midst of controversy which prompted some magnanimous white clergy to stand up for righteousness. Within our current society, the mighty zeitgeist demands that the black church act in the same vein toward the 21st century "least of these."
---

About DeWayne R. Stallworth
DeWayne R. Stallworth, Ph.D., teaches religion and counseling at American Baptist College, Nashville, TN.