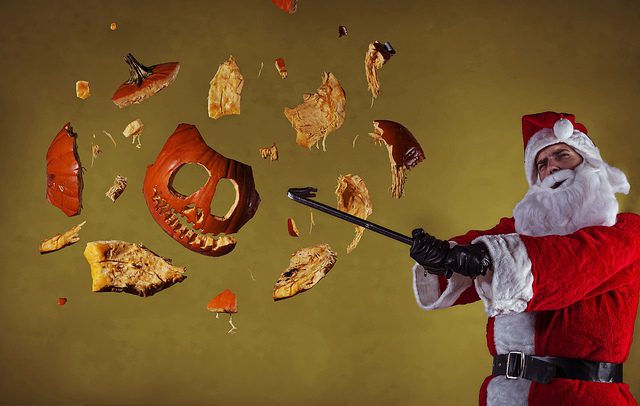 I decided it was long past time to write a bit about the horrible things people think and do when it comes to their misunderstanding of other people's beliefs, but in a funny way don't worry. The holidays are a time to come together for all faiths, Christians, Pagans, Jews and other religions. In that communal spirit PLEASE DON'T buy these terrible gifts for your witchy friends. There were a lot of questionably crappy things that didn't make the list. I'm not sure why someone would want a Pagan rosary or Pagan clergy bullseye shirt, but I just bought a bra with skeleton hands on the cups so who am I to judge. In advance let me also say, no offense meant to these sellers, I just want everyone to enjoy the gifts they get in a respectful way, and I hope everyone has a prosperous and blessed Yule season.
Let the holiday weirdness begin:
1. Satan claus shirt Pagans aren't Satanists. Witches aren't Satanists. Voodoo practitioners aren't Satanists. You get the idea people.
2. Satan is Santa wrapping paper. Again see above. Most of these items come from a make your own type of website so someone could just as easily make "Goddess is Grrrrreat" wrapping paper too.
3. Good witch/Bad witch salt and pepper shakers. To alternately bless and curse your food maybe, maybe not. Ok, there could be a small percentage of Witches who would welcome and embrace this stereotype, but unless you know they have a Margaret Hamilton obsession and a dog named Toto, I would err on the side of caution with this one.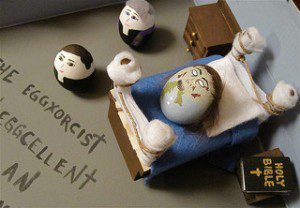 4. Witches and Pagans have nothing to do with demons or demonic possession. An exorcism or exorcist related gifts like the spinning head of Linda Blair that rotates and says" it burns." I am oddly surprised that this is available from several merchants including a major pharmacy… I wonder if anyone has ever gone to pick up their psychiatric meds and a rotating head in the same trip. Good times.
5. It is as bad as u think sticker No one needs to be reminded of this. This sticker is a bit passive aggressive don't you think ? The holidays can get depressing enough on their own, and we Pagans have a rough enough time anyway.
6.Wicked witch xmas lites. Hahaha no no no and a couple of tra la las.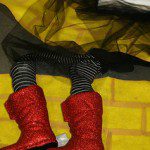 This is not how we pass the day away in my house.
7. Wicked witch legs under house. This to me is more like a death threat. The witchy equivalent of putting a horse head in someone's bed.
8. Happy Bunny Love and Revenge Voodoo kit . Voodoo isn't about revenge. It was and is a religion of people who suffered hundreds of years of slavery, so it has a few tricks, but please put down the stereotype. Back away quickly. I appreciate the cruelness of Happy Bunny just like the next gal, but in my opinion the bunny needs to get a new religion.
9. Flaming inverted pentacle thong… for men. SMH? I'm not posting a link, you will have to find these yourself, I promise they are out there, but I can't support the madness.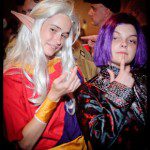 10. The number 10 most potentially regrettable holiday gift would be the Elf ear surgery. I know these people are going to regret this, maybe not now, but soon, and for the rest of their lives. Some people naturally have elf ears, my daughter's kind of look very fairy, and we were proud. But paying to have this done to me seems a bit extreme, when they are 70 years old will they tell their grandchildren they used to work for Santa or as an extra in the Lord of the Rings ? And now for the good stuff.
Three Great Gifts to Get and Share with Your Pagan Loved Ones !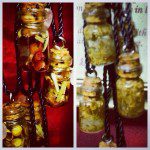 1. Raven Moon Oracle's New !!! Spell Bottle Charms. Small glass pendants, filled with herbs, oils and crystals to bless the wearer with specific needs. They make ones for love, prosperity, protection, spiritual connect, victory, courage and so many others. Raven Moon Oracle also offers custom ones for specific needs. They all come resin sealed, with a cord for either around the neck wear or for you to place in your home, car, office, etc so many possibilities…. This is a really great, respectful, reasonably priced and thoughtful gift to consider this holiday season.
2. If you haven't done so already get my e-cookbook, African-American Ritual Cookbook. It makes nice gift for kindle users, or if you don't have a kindle you can download an app to read it on your phone. There are several holiday recipes in there to share with your family, including my favorite Oshun Orange Cake, which was a staple at my house as a child. It has recipes to bring love, joy, blessings and reconnection with the ancestors. There is also the recipe for Voodoo Coffee which adds a much needed kick to the yule season.It's only $3.99 and kindle prime users can borrow it for free.
3. An open mind. That's right, I said give your loved one's of all faiths (Pagan, Christian, Wiccan, Voodoo, Lukumi, Muslim, and the rest) an open mind this holiday season and spread the love !