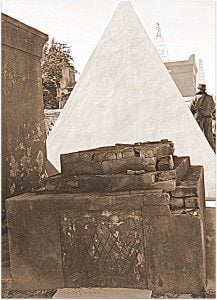 Ancestors remembrances are in full swing here at Patheos, and here at Voodoo Universe we continue to dig deeper. The following is part of a continuing Ancestor Remembrance Project, which partners Pagan bloggers with Non- Pagan ones. I have been paired with Michael Hardin and this week we are discussing ancestor memory and remembrance.
The tradition of New Orleans Voodoo celebrates its dead every day of the year. They artfully parade them down the streets in Second Line Jazz extravaganzas that are a feast for the eyes and ears. They house their dearly departed in above ground cities of the Dead, some of which are elaborate pyramids, others which have homemade headstones and bones poking out. Their most famous dead like Marie Laveau get cemetery tours and television shows and the public thinks it's wild and wonderful and weird. In reality it is all those things, but not for the reasons you might think. It's not because it's lewd or lascivious but because it is sacred.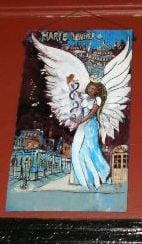 The stories I like to tell about our famous foremothers like Marie Laveau are about Community. New Orleans Voodoo and it's sister African Traditional Religions are not solitary practices. To conduct oneself in that way misses the true point of spiritual work. Personal reflection and exploration are important, but helping others is always paramount. While it is reported that Marie Laveau walked on water, specifically that of Lake Ponchartrain, for me her most important feat was the fact that she was the first to hold open public Pagan rituals in the United States. People of all races and social classes sang, danced, worshiped and ate side by side in service to the spirits.
For good or ill most of the New Orleans Voodoo and Haitian Vodou traditions were handed along as oral legacies. Drawing on the legacy of African Griots, or storytellers, the myths and lessons of a religion were told over and over from parent to child. In my own spiritual house these stories are told over the food. In a way it is a form of invocation and prayer. I don't mean we expect Grandma to manifest on the stove like a bizarre ancestral Mrs. Buttaworth. The point is instead to take advantage of the time and dedication it takes to prepare a recipe from scratch as a sacred learning opportunity. Marie Laveau herself was said to feed both prisoners and the poor as part of her spiritual work. During our ancestral feasts, many of which are open to the public, we tell stories, share recipes, and gather together as a community to remember and celebrate. As I write this one particular recipe comes to mind.
The first recipe I would like to share with you today is to honor the indigenous people of the Americas with a traditional staple corn. Here in the U.S. some are celebrating what everyone else feels is a pointless holiday called Columbus Day, where in reality you should be able to go and take stuff from other people's houses, but that is a blog for another day. Many people have called for a renewed focus on the indigenous people of this land and this traditional New Orleans heritage recipe is designed to do just that. If you feel so moved please prepare it and share it, remember who you are and who helped you to get here.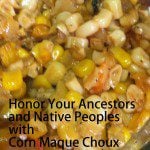 ---
This post is part of the Patheos Pagan Ancestor Remembrance Project.