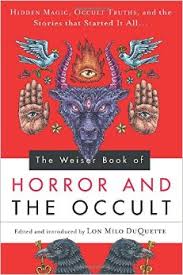 'Tis the season where everyone's mind turns to ghosts, horror and the occult. Many people myself included, think about these things the rest of the year too. This is certainly the case with author, musician and all around pagan celebrity Lon Milo DuQuette. DuQuette's latest project was as editor for the newly released Weiser Book of Horror and the Occult.
This latest work is a collection of stories, scary stories, stories that scratch deeply at our soul. He includes both the classic authors we know, and those we should know. DuQuette makes the distinction between elegant horror and modern horror. He even invokes the late great Vincent Price, who those of my generation cut their own horror teeth on in our youth. That horror, like the literary selections in this book, is classic grace in action.
No horror compendium would be complete without the inclusion of Edgar Allan Poe. Many a Gothic teenager, past and present, have embraced these words as a banner of dark strangeness. Lon Milo DuQuette speaks of his own boyhood discovery of Poe's " honey-sweet words," and his subsequent awakening. Personally my favorite homage to Poe comes in the form of director Ken Russell's final film Fall of the Louse of Usher
http://youtu.be/xV4SUd2EdeQ
In this volume we find Poe's Ligeia, described as some as "phantasmagoric." That fact alone warrants its inclusion here. It is a grey and gothic tale that examines both life and death.
The Weiser Book of Horror and the Occult also includes a selection from "the Beast" Aleister Crowley. This man's name means magick, and every occult discussion should invoke him. DuQuette is the author of over sixteen books several of which focus on Aleister Crowley, and is one of the world's foremost scholars and magickal experts on the legend. Since 1975 he has been on the governing board of the O.T.O., so if you are going to take a recommendation about Crowley, this is the man to get it from.We then have a selection of works we should, but may not be familiar with yet. Everyone from H.P. Lovecraft to Ambrose Bierce takes their rightful place in the volume.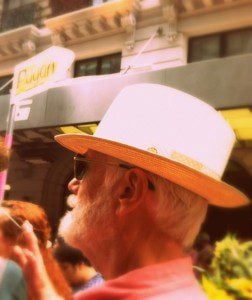 The only problem I find with the book is that I wish it was longer. DuQuette's introduction raises more questions than it answers. He speaks of Science Fiction as the child of Horror, a way to make new meaning out of a dystopic world. Is the author saying there is an inherent connection between Magick and escape? Is this particular collection DuQuette's attempt to pay it backward instead of forward in a world full of uncertainty and a stranger tomorrow?
I hope to get the answers to these questions and more in my upcoming interview with DuQuette. Unfortunately, it wasn't the time or the place when I was ironically gifted the opportunity to stand next to him representing with the rest of the Pagans at the NYC People's Climate March in September. So check out the book, it makes a wonderful addition to any serious horror or occult library, and watch this space for the answers to those questions above, and more.