The Voodoo Universe Blog is two years old.It took a lot, but there are over 276 published posts here. I was going to write this blog post about crying if I want to, but that quickly took a back seat to ranting. Ranting is much more fun anyway! Don't get me wrong, I have had a lot of kindness and support with this blog. My friends, family, and godkids … yes, I said my godkids, have been invaluable in keeping me and these lovely words flowing.
As for complaints however, lets start will the almighty powers that be…. I know some of you reading this Voodoo blog think I am speaking about Lwa or Orisha, those are indeed almighty powers, but no, I am instead speaking about social media networks. I have put in my time on many a social media outlet from facecrack to twitter ( I can't even change the letters of twitter it only gets dirtier.) I read, share and post just like all little media darlings should. Yet I was still censored by one of these big guys when it came to the following post:
Candomble and Umbanda Declared Not Religions !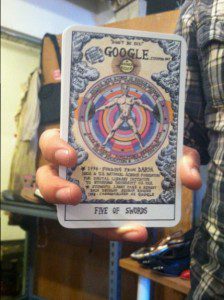 The only reason I was given is for unsafe religious speech. Please people, this makes me want to really write some unsafe speech. I fully realize that these are not free markets, but when my editor at the time said the same thing often happens to Muslim bloggers, it makes you wonder. But not to favor one religion over another, I was also removed or "whitewashed" (their word) in an article about Voodoo in a major Muslim news publication. The author who interviewed me said he will make it up to me, but we will see how that turns out I guess. My ire is also roused by the search engines,and their puzzling logic. People who pay attention to these things will help me rant into my cup of chai (better than crying in coffee) about panda and penguin updates. I realize people prefer to read a major paint company's opinion of Blue, but my post about Haint Blue will tell you why it keeps away ghosts, and deserves to be seen as well. All I will say for now is I'm not the only one who associates google with the 5 of swords. Just saying people.
Regular readers of this 2 year old blog will hopefully remember that not too recently I wrote about Hexfest, an event I attended recently in New Orleans and how there too we were met with
Religious Discrimination: Here We Go Again!
An alternative venue was found, and the participants all had a proud moment as we floated by on a better boat and perhaps even gave them the finger! But seriously folks why do these things like hatred, oppression and censorship have to happen. It's the same advice I tell my 5 year old kindergarten friends" if someone isn't nice we move away. " We don't try and take their toys, money, time, energy, etc….
These struggles hurt, personally and obviously professionally. Another thing that has been hurting a bit is that despite the fact that my recent post about Racism and Recognition in Paganism received almost 200 shares the video describing mine and my godson's personal experience got only 50 views.
Are people more will to share then they are to really see? I'm not sure anyone has an answer for that.
All in all however, it's been a wild two years. I pledge to write more in the upcoming days about the posts and the positives. Thanks for reading, Thanks for sharing, and Thanks for caring!