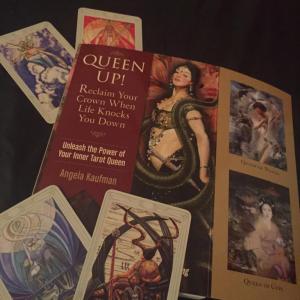 People are raving about Angela Kaufman and her new book Queen Up ! Reclaim Your Crown When Life Knocks You Down. I recently took a look at the book, and you can read my review here. So you can imagine my joy when she agreed to be interviewed as part of our Divination Space Station series. Since we began we have been honored to showcase Mat Auryn, DJ Martin, Little Luna, Brandi Auset, and many other psychics, authors, and diviners. Read below as we talk tarot and divination with a Queen in her own right,  Angela Kaufman.
When did you start divining?
I started to explore divination at age 14. I had been learning about Wicca and saw a reference to Tarot cards and was drawn to the idea of learning Tarot.
With what method?
Initially with Tarot. I explored palmistry and runes briefly but felt more closely connected to the archetypal images of the Tarot, perhaps because I had interests in art and tend to be more visually oriented.
Which method do you use most often now?
Tarot is still my favorite tool however my understanding of Spirit connection has grown. I now work with Spirit with or without the cards and appreciate that the cards, like any other tool, are an extension of our connection to the Divine.
How important is the choice/phrasing of the question?
I feel phrasing questions is important, as are intentions when doing this work. There is a big difference between inquiring from a narrow viewpoint, especially a viewpoint influenced by what you want the outcome to be. For example, asking "am I going to get the job at X company?" leaves little opportunity for empowerment, when compared to a similar career question "What do I need to do to have the best opportunity to be hired by X company?" or even "How will working for X company shape my career?"
When it comes to relationships, I am often asked "When is so-and-so coming back?" which leaves little room for empowerment. What if they aren't coming back? What if it isn't in your best interest to get back together with this person? What are other opportunities you may be overlooking?
Tarot is a great tool to help uncover patterns of energy that lead to potential outcomes, and therefore looking at the process of events transpiring can lead us to greater empowerment and choices as opposed to narrowly focusing only on questions that serve our own biases of how we want things to turn out. At the same time, I think it is important to have a clear understanding of what you are hoping to learn from a reading, what is really at the heart of your inquiry.
Do you have a yes/no method of divining you recommend?
Tools like pendulum lend themselves to yes and no questions in a way that Tarot doesn't. With Tarot though, a yes or no question can be answered based on whether the card drawn seems to expand opportunity suggesting yes, such as the 9 of cups, the Sun, or three of cups, or whether it seems to limit or close off energy, such as ten of swords, seven of wands etc. I also recommend getting to know your symbolic codes that your guides use with you. These are the clairvoyant images, words, sensations and impressions that your guides use to convey very specific information. When my guides respond to a question with a tingling of energy on the left side of my body, it indicates affirmative answer, the right side indicates no. This is a code they use with me however that doesn't mean the same interpretations or sensation would apply to others, it takes some practice and development of the language with your guides to know how they work with you.
Is there any advice you have for newcomers when using divination?
My advice for newcomers is practice and don't be afraid to write down your responses. Pretend you are in a lab and experiment. Have fun with it. Don't just record when you get something 'right' write it all down because you never know what may be confirmed for you at a later time. Be open to looking back at your process for the sake of recognizing under what circumstances you are most clear, and under what circumstances your fears, rational mind, or ego begin to censor or block you. Take the process as an experience to grow and learn and remember we are doing this in service to a higher power.
I loved the new book, Are there any other new projects you are developing? 
Blessings, Thank you! I have some ideas for a follow up in a similar vein as Queen Up! but it is still in very early formation.
Kaufman's website gives insight on her background. "Angela Kaufman blends the mystical and the modern in her approach to helping women improve their relationships and their lives as an Intuitive Relationship & Empowerment Coach. She has a background as a Clinical Social Worker as well as certification as an Intuitive Consultant, and Psychic Medium. Angela created the Queen Up! System to help women harness the power of passion, power and abundance by connecting with the energy of their highest potential." She can be found online at intuitiveangela.com
As always if you have enjoyed what you read here please support us and remember to like, comment and share !