Victims of a catastrophe never forget the moment their lives changed forever.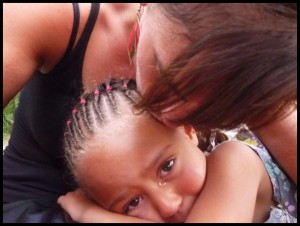 While others are impatient for them to get over it, they suffer – sometimes for the rest of their lives. Some do so in silence, self-medicating away the pain with alcohol, drugs, sex or work. But many struggle to make sense of the event, to find some sort of meaning that restores stability to their lives, so they can move on.
In rare cases, victims take the process beyond their own rehabilitation, turning the experience into a gift that they share: a project or ministry directed to benefiting others. Instead of being crushed by tragedy, these resourceful individuals reshape and transform their lives like sculptors, wielding the source of both their agony and their insight as an instrument of healing. It's a kind of Olympian version of the old saw, "When Life Gives You Lemons…"
Richard and Maureen Kanka come to mind. I don't know them personally, but when their daughter Megan was kidnapped and murdered by a paroled sex offender, they gathered over 400,000 signatures to demand federal legislation that would help police protect other children in the future. "Megan's Law"[1] was passed in 1996.
My friend, Kathleen Murray Moran, joined with two other police widows and started an organization called "Survivors of the Shield," after her husband, a New York City police officer, was killed in the line of duty. SOS has been a source of support and comfort to thousands of survivor families since 1988.
Folks like this exhibit a kind of courage that raises the bar for all of us. In the process of seeking their own healing, they focus the overwhelming energy of their grief into productive action that makes the world a better place. In their sorrow, they experience a profound empathy for those strangers and fellow travelers who might find themselves adrift in the same kind of boat. In so doing, they find the purpose and joy that comes of flexing their muscles again, subverting self-pity and riding compassion like a thundering steed into battle.
Mary Ann Emswiler and her husband, James P. Emswiler are two such people.
When James lost his first wife, Mary, to a heart attack in 1989, he was suddenly left alone to raise three grieving adolescent children. All his plans came crashing down. He missed his wife, but it was worse than that. Adolescence being what it is and motherless children having needs far greater than normal, he was pressed to his limits. A thought plagued him, increasing his desperation: his children, he knew, were not meant to walk life's long road without a mother to help and advise, comfort and encourage. It wasn't right. It wasn't part of his plan for them. And it was almost unbearable anticipating the difficulties that life without their mom would bring his children.
The enormity of his sorrow threatened to stop all their lives from moving forward. "But I have discovered since then," he writes, "that life is no more a trip to be planned than grief is a problem to be solved. Both are journeys to be traveled. And what a journey it has been."
Within a few years, Jim remarried, and a stepmother entered the mix. His new wife, Mary Ann, quickly discovered that no matter how great her desire was to love and comfort her new family, she could no more take away their pain than she could become the mother they really wanted: the one who was gone and could never return.
With incredible determination and intelligence, the Emswilers struggled through the process of supporting and nurturing each other, encouraging the healing process through each stage of their children's lives, slowly rebuilding their sense of security and trust. But they didn't do it alone. They reached out to friends, family and professionals, and in so doing created what they call a "holding community" for themselves and for their children, a network of caring persons who have contributed all along the way to the wellbeing of their family unit.
The Emswilers, in turn, have offered their support and insight to others. The result is that they have become experts in the grieving process through education and experience, their involvement in the New England Center for Loss & Transition, and the organization they founded: The Cove Center for Grieving Children.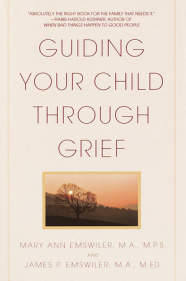 With the encouragement of their peers in the field of grief work, the Emswilers have compiled a truly comprehensive manual for families with grieving children. The result is the accessible and warmly written, "Guiding Your Child Through Grief," which the couple co-authored.
I read this book in 2009 for a psychology course, which I took, in part, because I knew a couple of families who were dealing with tragic losses, and I wanted to understand how to help. But in the course of reading the Emswilers' book, I discovered a grieving child in my own family.
Through the book's detailed analysis of childhood grief and the effect it has on family life, I began to recognize many typical grieving symptoms and syndromes in my then nine-year-old daughter, and certain problems that had not made sense before suddenly became clear and manageable.
When my daughter was six, we lost contact for an extended period with some very close cousins, due to a divorce and relocation. It was heartbreaking for all of us, but especially for her. She missed the kids and she didn't understand how a mommy and daddy could stop loving each other. She worried aloud about whether it could happen to us, so we did what we could to reassure her that all was well in our marriage. A few months after this loss, my husband's father died.
Again, our little girl suffered visibly for months, agonizing over the loss of her memories of him and clinging to a photo we had placed in her room. She cried at bedtimes and asked questions that expressed her fears of losing me or her daddy. Over time, she seemed to find acceptance, but in the three years that followed these two events, we saw our daughter become more volatile and emotional than ever before. She had always been an alert, cooperative student, but even her teachers complained that she would sometimes lose a whole day, as if she were in some sort of fog.
At first, we attributed her struggles to "growing up," but as I read through the Emswilers' guide to understanding the grieving process in children, I realized there was more to it: my daughter was grieving. It was a real knock-in-the-head moment that helped me to grow closer to her than ever before, and my little girl quickly found peace, as we implemented some simple strategies.
The book is huge in terms of the sheer volume of information it provides, so rather than merely outline it, I'll tell you what parts had the greatest impact on my family.
In Chapter Two, "How Children Grieve," the characteristics of the process of childhood grieving is laid out in ways I recognized: "…the key factor in whether a child feels safe enough to grieve is whether the adults around her can tolerate it." "Children dip in and out of grief. They know how much pain they can tolerate at any given moment, and when they reach their limit, they simply shut it off and do something else."
In the section, "Children Express Their Grief in Their Actions," one of the case studies reported, "Emily's mom found her etching designs into the wooden kitchen tabletop with a pen." The text advises, "Rather than seeing regression as a problem, think of it as taking a break from grief."
I love the little summaries at the ends of each chapter. The book is very "meaty," in the sense that I could write a post for every chapter and not do it justice. The summaries get to the heart of all the many points that have been made, which helps the reader to take away an overriding goal for the process.
Here's the summary of Chapter Two [emphasis mine]: "But once tragedy strikes, our job as parents is to help our children integrate the tragedy into their life stories in ways that leave them competent, contributing, and compassionate. Our job is to teach them how to choose hope over despair – to choose life in the face of death."
In Chapter Three, based on the findings of the Child Bereavement Study, the Emswilers observe that children's anxiety over the safety of their parents often shows itself in anger. "…their sense of powerlessness, their unspoken and unresolved fears, evolve into anger." Later, the chapter addresses, in typical point-by-point fashion, the detective work parents must do to understand their children's feelings:
get them to tell you about it
look for behavioral patterns that relate to the loss
consult with teachers and social workers
watch the way they play
Every chapter includes both sides of the grieving coin, providing self-care tips for parents balanced with care of the child.
My favorite part was Chapter Eight, "Dealing With Holidays and Other Special Days." While all the chapters are practical, specific and well-written, this one shares creative ways to celebrate and embrace memories of our loved ones, integrating them joyfully into family activities and traditions. I love that looking for ways to remember them is so life-giving that it helps the child to both mourn the death and be reassured of the goodness of life.
Doing something that honors the loved one, returning to deeper meanings in family rituals, and maintaining connections with the deceased person make so much sense to me, but I couldn't have articulated them until I read the tips in the section entitled, "What About the Kids?" This chapter is packed with simple, affordable ways to continue the process, while bonding with our children and celebrating along with the grief. I particularly liked, "Together watch your loved one's favorite holiday movie. Share his favorite snack or dessert."
The next chapter, "Teens and Grief," debunks the myth of "letting go" and affirms the need "…to maintain a healthy attachment with the person who died." I loved this: "…stay connected by… wearing a piece of jewelry that he used to wear…do whatever it takes to keep the memory alive."
All through the book, the Emswilers advise parents to maintain a tolerant and compassionate, non-judgmental attitude toward the child who expresses his conflicting emotions. In "When Grief Goes Wrong," they note, "It's a lucky child who can say 'I hate my mommy' while a supportive adult listens without judgment!"
I also appreciated their advice to keep standards high, encouraging grieving children to use their best behavior and manners, and to work hard in school. I love the emphasis on life coupled with an urgent call to embrace the questions, the memories, the sorrow and the love we shared with the person who died.
"Guiding Your Child Through Grief" offers hope and refreshment to families parched by grief. I read this book so I could support other families, but I ended up finding a treasure for my own.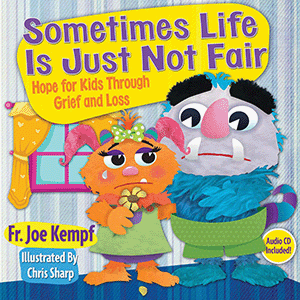 Also recommended for children, Our Sunday Visitor has an adorable picture book to help young children process grief, called, "Sometimes Life is Just Not Fair," written by Father Joe Kempf and illustrated by Chris Sharp.
[1] "Megan's Law is a federal law passed in 1996 that authorizes local law enforcement agencies to notify the public about convicted sex offenders living, working or visiting their communities."