I love saris. There's no piece of clothing more elegant or noble-feeling in my opinion! Sometimes people see them as too fiddly for every day wear, but when I went to India, I saw women wearing them for any kind of task from carrying cement at a construction site to washing floors at the mall to guarding the security of a temple dedication. I've found that I can easily wear them for every day and they make me feel more beautiful than any other kind of clothing.
They are so gorgeous! I love all the colors and patterns and the way they drape.
There are a few different ways you can wear them. I don't know every way, but here are a few that I know!
What do you need?
A Sari (at least six continuous yards of fabric)
A Choli (blouse)
A Petticoat/Slip (with draw string waist)
For a choli you can just use a t-shirt or sometimes you get a matching choli with your sari. You can also buy separate cholis at places like ebay or krishna.com You can go fancy with the choli, but I usually wear plain black and allow the sari itself to shine.
The petticoat or slip is just a drawstring plain skirt. You'll need it to tuck your sari into, so when you put it on, make sure it is tied very firmly around your waist or hips. Again, ebay and krishna.com have options for buying slips. The color on the petticoat really doesn't matter much. If all goes right, no one is going to see it! (unless you have a sheer sari).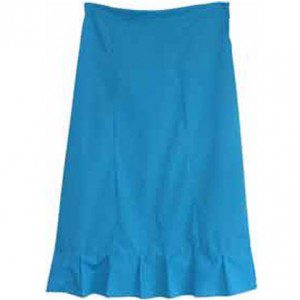 My cousin taught me how to wrap a sari and after one or two times, I found it to be very intuitive. At first when I went places, Indian aunties would retuck me or redo my pleats in the bathroom, but these days I'm completely comfortable in them.
I'm going to do both a video and a series of pictures to show you how to wrap a sari. Because video can be very useful, but sometimes you don't want to sit through the whole thing and be trying to pause it in the right spots and all!
Basic wrapping
http://www.youtube.com/watch?v=3FqN-dEaLsM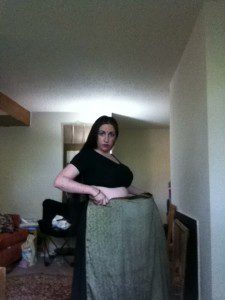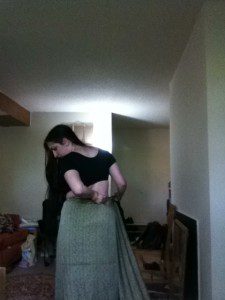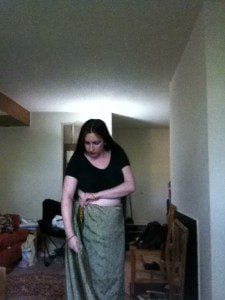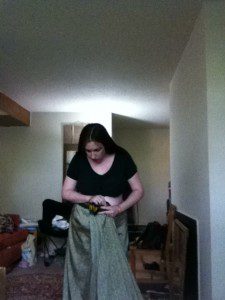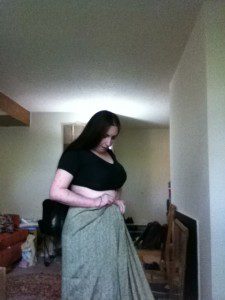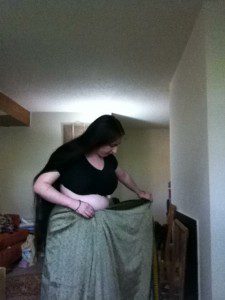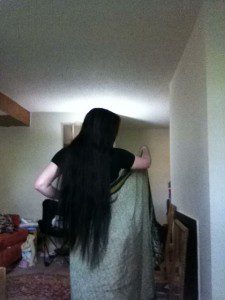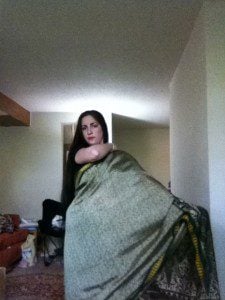 Start at your right hip and tuck in straight across the front of your body, wrap around the back and tuck in across the back so you have one complete skirt of fabric. Decide how much fabric to pleat and make pleats in the front, tuck in, wrap fabric continuing around, go across your back and under your right arm, across your front (covering the tops of the pleats) and over your left shoulder. Decide what to do with the pallu (decorative) end…
Variations for the top
There are a number of things you can do with the pallu at the end.
1) You can leave it loose and flowing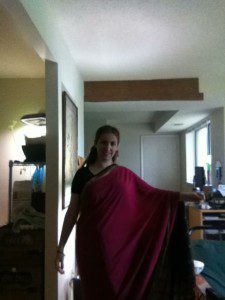 2) You can pleat it up to your shoulder and pin it there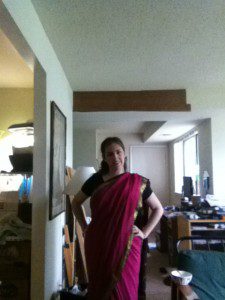 3) You can pull it across your shoulders like a shawl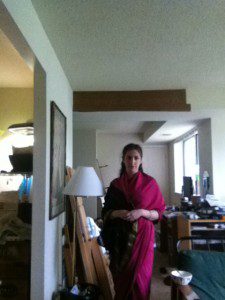 To do this one, start with #1 and then pull across like this: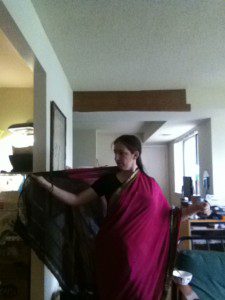 4) You can tuck it into your petticoat to keep it completely out of the way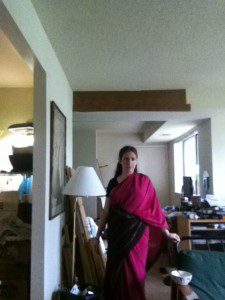 To do this one, start with #1, then pull across and under your right arm like this: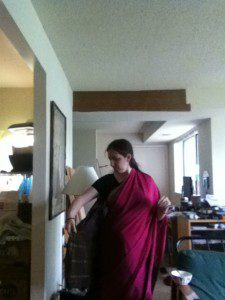 5) You can have the pallu flowing across the front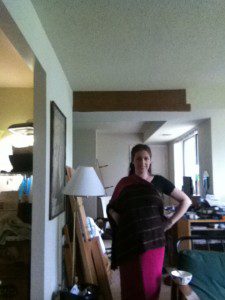 To do this one you need to go all the way back to where you've got the fabric wrapped around as a skirt, then instead of putting the fabric across your left shoulder, you pull it under the left shoulder and over the right. You have to make sure you have enough fabric left to get it to drape far enough!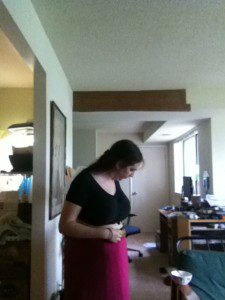 (from here pull across the back and up over the right shoulder to the front)
Here is a blog post about various different types of saris: http://www.walkthroughindia.com/lifestyle/eleven-most-beautiful-types-of-sarees-in-india/
Here is a page of pictures and videos for a number of different draping styles: http://www.utsavfashion.com/saree/how-to-wear-saree
Enjoy your saree wearing! 🙂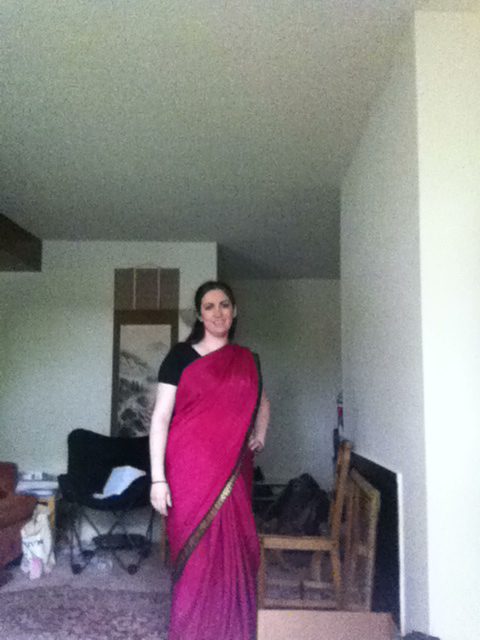 (I love the color of this one SO much!)