You guys have seen the cute little Krishna doll that I make for my Etsy shop. I thought today I'd share with you how it's made so that you could make one of your own if you were so inclined!
The basis is a pattern for a Waldorf style soft doll found here: http://www.mamasmiles.com/amigurumi-inspired-baby-doll-crochet-pattern/ It is crocheted, so you'd have to know how to crochet. I use a C size hook for it.
I use a dark blue yarn from Knit Picks in wool of the Andes (winter night color). I add pipe cleaners to the limbs and neck to make it a little more stable. Once the body is complete and the head is embroidered I free form crochet in gold and red to form a little outfit, necklace, and crown.
The trickest part is doing the hair. That takes me many hours to do. I cut black yarn in segments of about three inches.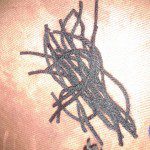 I use a crochet hook to pull one at a time through the scalp and tie it in the center. I then unravel the strands of the yarn on both sides. I do that over and over and over until the head is filled in.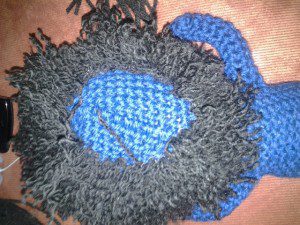 Here are a few of my finished creations. You can see that each one is a little bit different!