It tends to happen every mid-July, I've noticed. Once the excitement and/or irritation with July 4th wears off, thoughts turn to fall, autumn vignettes, cooler weather, and witchy interests. I get it. Summer loses its charms for many around this time. It's hard not to think ahead, with school supplies in the stores (I have a personal contest every year to note the day I first spy the school items on shelves). Many have already had their summer vacation (if they take one), the heat can be unrelenting, and the novelty of a new season starts to wane. Even I feel it, and I am a firm lover of the season of Summer.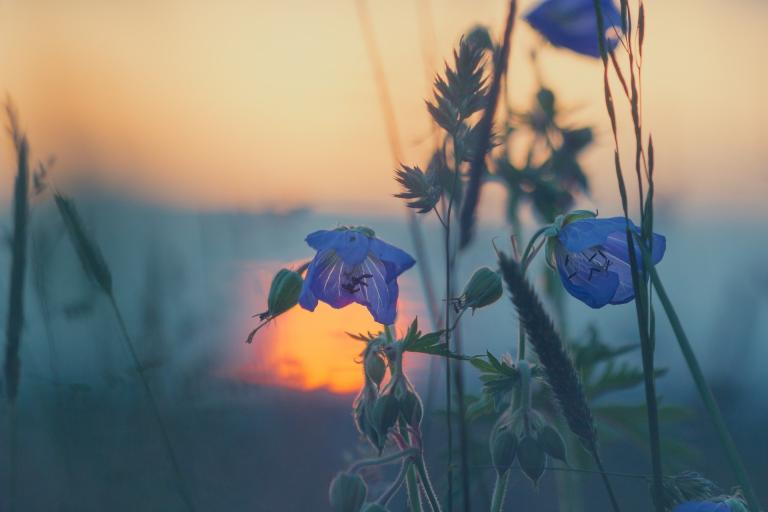 It's easy to get lost in the "thinking ahead" and for some (especially parents) it is on our mind daily. Fall means routine, coolness, darker days, and coziness. Samhain is usually considered the highlight of the Wheel of the Year, and the month of October is usually filled with all sorts of magic.
What to do? Well, as my deities have been reminding me regularly lately, get back to center. Wind your way back to the present, and appreciate the season you are still in at the moment. Do it as often as necessary. Fall will still be there, beckoning and enticing us with the promise of its dark beauty.
In the meantime, a few ideas to get your attention back to the present time:
Deepen your spiritual practice  Go back to the basics, clean off your altar, find a new focus, discipline or interest, and start anew. Add some time at your altar in the mornings, or in the cool of the evenings, and remind yourself of the beauty of your spiritual practice. Pick up a new book on the subject, get a new candle, or put some fresh flowers or herbs on your altar.
Visit a metaphysical shop  There is nothing like the thrill of visiting a new metaphysical shop. Upon opening the door, you never know what treasure you may find. I love the different products, locally crafted items, and the basic supplies I might be needing at the moment. Not sure there is one in your area? Google is your friend, and it may be worth a day trip to go visit and see what's out there by way of metaphysical and magical shops.
Enjoy nature  Trust me, I am not a morning person. Yet I tend to go hiking first thing in the morning because it is less crowded, and I have never once regretted the beautiful sights I invariably see in the cool of the morning.  A quick walk at a local botanical garden or park also does me wonders. Being near trees perks me up like nothing else. What in nature do you enjoy? Garden centers are also great places to visit, as it is not as crowded as the spring frenzy has passed, and you may find an herb or two to brighten your windowsill and garden. Go hiking or camping with your friends, or take up water sports at your nearby lake. Get outdoors, take deep breaths, and soak in the vistas.
Try some new recipes  Thankfully, there are tons of witchy and Pagan cookbooks out there, so explore a new recipe, or learn a bit of herbalism and create teas, tinctures and other drinks. Make some mead, or bake some bread, and not only will you be sating your hunger and thirst, you will possibly find a new endeavor that will carry you into the rest of the year.
Make lists  Make a list (no matter how short) of what you DO like about summer. Maybe you like wearing sandals or going barefoot, or you enjoy more free time with your family because of summer schedules, or you like treating yourself with ice cream during the hot months. Not sure what you do like? Visualize a perfect summer day, and notice what components are making you happiest. Add them to your life if you can. The ocean makes you happy? If a trip the beach is not doable, seek out streams, creeks and lakes. By the time you finish the list, you may find yourself a bit more appreciative of the summer months.
Think about others  It is so easy to get caught up in your own head and world, so think of others outside of yourself, check on someone  you haven't heard from in a while, feed the birds outside, volunteer, or write letters/send cards to a long distance friend. Try incorporating one thing a day that you can do for others, and note how it brightens the season.
Protection  Double and triple check your self-protection and wards of your home. Clear out clutter, cleanse and reinforce whatever protection you use, or add a new item to the mix. Make sure you are grounding and shielding daily, as the warm weather can see an increase in tempers and irritation.
One thing  Treat yourself to one thing to tide you over this season.  Maybe it's a fall or Halloween decor item, or something else you've had your eye on for a while. Maybe it's a book you've been really wanting to read, or piece of jewelry that you've been wanting to add to your collection. Let that one thing be your touchstone for the remaining weeks ahead, while you turn your focus back on the present moment.
Hopefully, these ideas help a bit with the summer malaise you may be experiencing. Remember the beauty and strength of our Pagan ways, and put them into action. Most of all, appreciate the now and present moments. Fall and Samhain will be here before you know it.