This vegan recipe developed one feasting season a few years ago, because I'd invited my new sweetheart to join my family for a Thanksgiving meal. As he is vegan due to dairy allergies, he was hesitant to join us, worried he'd cause me too much trouble. Hogwash! A Southern cook turns no one away from her table, and certainly doesn't refuse a challenge! A meal good enough to share, has to care enough to nourish everyone, without exception. A great way to express your love for someone is to help accommodate their personal health choices. That sweetheart just asked me to marry him, so I'd say that my efforts were appreciated! (I said YES!)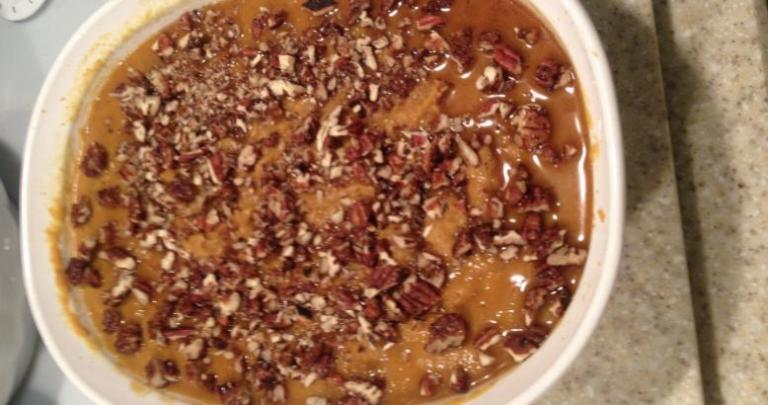 You truly can have your vegan, gluten-free cake, and eat it too! Yes, I also made a ham and deviled eggs for the omnivores, but for the side-dishes, going vegan was not only easy to do, but stunningly delicious and far healthier for everyone there, without sacrificing flavor or satisfaction in the least.
I began with the basic idea in my Autumn Harvest Bisque, but rather than a soup, I aimed for a whipped and baked in a casserole dish, idea. Plus, my sweetheart – wait, now he's my fiancè, YAY! – made some amazing Tamari Roasted Pecans that I used as a topping.
If I may recommend, serve this dish alongside my Collard Greens with Berbere Maple Vinaigrette, and it will be a vegan feast to titillate your taste buds like magick – and if you are as lucky as I have been, may even gain you a new husband! <snicker>
Thai Autumn Squash Casserole: Vegan and Gluten-Free
Ingredients:
3 acorn squash, prepared
1 butternut squash, prepared
1 granny smith apple, peeled, cored and chopped
1/2 cup diced onion
1 tablespoon chopped fresh garlic
3-4 tablespoons extra-virgin organic coconut oil
3 teaspoons yellow curry powder
1 tablespoon chopped fresh ginger (Or prepared stir-in paste)
1 tablespoon chopped fresh lemongrass (Or prepared stir-in paste)
1/3 cup mulled apple cider (mulled with clove, cinnamon, allspice and orange peel.)
1 cup coconut milk – I like the kinds in a can in the Asian foods section of the grocery store. Fattier and creamier the better.
6 tablespoons organic, gluten-free tamari sauce, plus 2
1/4 teaspoon freshly ground black pepper
1/4 teaspoon berbere powder (recipe here), or crushed red pepper (for some kick!)
1/4 cup maple syrup
1 Cup chopped Sweet Tamari Pecans (2 cups pecan halves, 2 T. Tamari, 1 T Maple Syrup, 1 teaspoon Berbere Powder)

Pull out your electric mixer, if you have one.

Ingredients for Autumn Squash Recipe – Photo by Heron Michelle
Preparing the Ingredients
There are a few preparations you can make ahead of time, that will play several roles in this meal. I hope you didn't expect to get off quick and easy with this recipe, because it takes some work to achieve this level of culinary greatness. Lazy feasters need not apply.
Mull some apple cider by slowing warming on the stove, or in a crock pot, a gallon of apple cider with 1 tablespoon each of whole clove, whole allspice, and an orange peel, with 1 cinnamon stick. Let soak for a few hours, then remove the spices and enjoy as a warming holiday beverage, but save out 1/3 cup for the squash! (To really kick this party up a notch, spike the cider with Fireball Cinnamon Whiskey.)
Blend your Berbere Powder, which will play a starring role in multiple dishes, and you'll be glad to have left-overs. If you are unfamiliar with the wonders of Berbere, know that it is a traditional Ethiopian Spice blend that will change your life. Blend your own from my recipe here, or you can buy it on-line or at some world markets. Here is a source at My Spice Sage.
Roast your Sweet Tamari Pecans: Toss together the pecans, maple syrup, tamari and berbere in a bowl until fully coated. Preheat oven to 350°, then spread pecans evenly over parchment paper on a baking sheet, and roast about 10 minutes, or until toasty dry. Allow to cool, then chop up 1 cup of them into small pieces for the squash, while snacking on the rest. This is why we've made twice as many as we need, because you won't be able to stop yourself anyway.
Preparing the Squash
Butternut squashes are notoriously tough and difficult to peel. I think it is easiest to just prick the skin of the butternut squash with a fork a bunch of times, then put in the microwave on a plate, and cook on high for 5 minutes, then give it a cold bath in ice water. After it has cooled enough to touch, the peeling should strip away with a vegetable peeler pretty easily. Cut in half, scoop out and discard the seeds/pulp, then dice up the remaining squash.
To prepare the acorn squash, I quarter them, scoop out and discard the pulp/seeds, then place raw side up in a casserole dish with about a 1/4 inch of water in the bottom, cover with foil, then bake at 350 degrees for about half an hour. They are ready when you can easily mash the squash with a fork. Remove from oven, let cool. I then use a spoon to scoop out the squashy goodness into bowl, discarding the peels.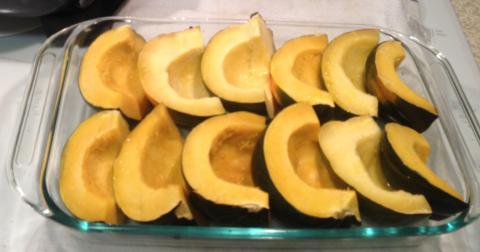 Putting it all together
Preheat the oven to 350 degrees – or let it remain hot after you roasted your pecans. Peel and chop the apple, garlic, onion, ginger and lemongrass. If you want to be a little bit lazy, you can use prepared ginger and lemongrass pastes like the ones pictured from Gourmet Gardens.
In a large, deep skillet, heat up the coconut oil over medium high heat and saute the onions until glossy, then add the acorn and butternut squash. Saute for about 5 more minutes, then add the apple, garlic, curry, ginger and lemongrass and the mulled apple cider.
Reduce heat to medium, and stir frequently for 5-10 more minutes as the liquid reduces and it caramelizes a bit. It is done when the apples are mashable. Remove from heat and transfer to a mixing bowl of your electric mixer, if you have one. Or, a hand-held mixer or immersion blender can be used in the skillet.
Whip the vegetable mixture with the creamiest part of the coconut milk (it tends to separate in the can, so I pour off the water and use the solid part,) GF tamari sauce, black pepper and berbere powder until smooth and fluffy. Taste-test and adjust spices to suit your preference. Spoon into a casserole dish and smooth flat with a spatula. Sprinkle the chopped sweet tamari pecans evenly over the top, then drizzle with a bit more of the maple syrup… because maple syrup is how we know that the trees love us dirt-worshiping tree-huggers in return.
Bake at 350 degrees, uncovered, for about 30 minutes. VOILA! This recipe served 6-8 people with left-overs.
Now, to elevate this vegan and gluten-free meal into the realms of gastronomical perfection, continue on to make my famous Berbere Collard Greens, and Mulled Apple and Cranberry Compote.
May all your feasts be merry!
~Heron Michelle