After 2 nights in Riyadh, we flew to Dubai for vacation—the folks sponsoring my husband paid extra for us to leave earlier because they apparently felt so bad that I had to spend time in Saudi Arabia.  Turns out, I wished they had let us stay longer but set up times to talk with local folks so I could hear their stories, pick their brains, and learn more about life in Saudi Arabia. Sigh.  Another time.
Here are my impressions of Dubai:
From burkas to bikinis: If Riyadh is the most conservative city in the Middle East, Dubai's the most liberal.  When we stepped out of our taxi at the hotel, the first sight that greeted us was a woman in a teeny-mini skirt and black sparkling tank top.  Everything "official" said to dress modestly— malls have signs asking for shoulders and knees to be covered.  But numerous tourists commented on Trip Advisor that they wore whatever they wanted—strapless dresses, tank tops, short shorts.  And from what I saw, they did–women in burkas, abayas/hijabs/niqabs, men in Middle Eastern wear, and Westerners who either didn't care to dress modestly, or didn't know what modest means.  Wanting to respect the local culture, I brought only ¾ length sleeve shirts and long skirts, which meant I was really hot but didn't offend the 15% of the population that were native Emirati.

Dubai = Las Vegas + Honolulu:  Everything about Dubai screams tourism.  They've poured incredible sums into making their city a tourist destination—between building the tallest building in the world,  palm and world shaped islands, even a ski slope in a mall!  I felt strangely at home because Asians, especially Indians and Filipinos, make up the largest part of their labor force.

Scott in front of the Burj Khalifa

Palm Jumeira Islands and The World

Safaris may be fake, but they're fun:  I think desert safaris are about as authentic as Hawaiian luaus.  But the concierge at our hotel recommended we do one, complete with dune crashing, camel ride, henna, barbeque and belly dancing.  I knew I wouldn't be keen on dune crashing (riding up and down sand dunes at high speed in an SUV), especially after reading how they damage the desert ecosystem.   Sure enough—not my cup of tea.  I kept wondering how many SUVs tumbled over and looked for tracks in the sand that might confirm my suspicion.  (When we finished the safari, our driver said, "Now I can tell you." and confirmed that they do roll over occasionally )  The consolation was that some profits from the safari went to a desert conservation area which we also drove through.  The desert was stunningly beautiful and it was just too fun, even if fake!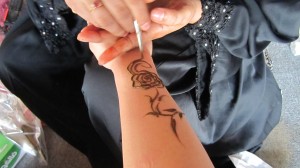 "Sure!"
It took her about a minute to draw a pattern of swirls and flowers.  Then she said, "This part is free," (pointing to my wrist on down), "this part costs money." (pointing to what she had just done).
"How much?" I asked.  "Whatever you want to give, but you must give me money."
I brought over a small tip and put it in a plastic cup near her.  Later, when she was free, I decided I wanted my other hand henna-ed.  "But you never gave me money!" she exclaimed.
"I did too give you money!"  I pointed to her cup.  She didn't look too happy at my paltry tip but dashed off another design on my left hand.
5.  Prepare to get taken #2:  Even though Dubai's an honest place to do business (the Muslim laws have severe penalties for fraud) that doesn't mean you don't get taken when it comes to bargaining.  I spent about 3 times as much on spices at the Spice Souk than I would at my local Indian store.  Scott just looked on as the proprietor wooed away our dirhams.  "You need to do the math for me and convert it to dollars!" I chided him afterwards, "I can't bargain and figure it out at the same time."

6.  Buy gold/jewelry:  I didn't come to Dubai knowing this, but the prices are incredible.  I've been wanting an anniversary band for our 20thwedding anniversary, and have done all this internet research trying to price it out and feeling like it's a complete act of selfish materialism to even consider spending that much money when I have a perfectly beautiful engagement ring. But at the Gold and Diamond park, the House of Windsor made me a platinum diamond/emerald ring in 24 hours that was 1/3 the price of anything I saw in the US.  They gave me their rock bottom price after we said we'd walk around and discuss  it.  Maybe we could have done better with more bargaining, but given the astounding price they gave us, we were happy.
The splurge–although Scott and I both have noted that the henna stands out way more than the ring!

7.  Get ready to walk even though it's not a walking city:  Although our hotel folks were horrified that we weren't taking taxis everywhere like good tourists, we attempted to walk to the Metro.  After 2 very long and hot and getting lost attempts, we took a taxi to the Metro (10 dirham), then Metro-ed to other sites.  The malls (the center of social life) are so ginormous that we did a fair bit of walking just to see the sights of each mall.  In my best day I set a personal record of over 35,000 steps.  To my delight, I found that I walk about 3000 steps more/day than Scott (due to short legs), which means I crushed him in our Fitbit challenge.

8.  Do the main sights:  Even though most tourists go to Dubai to beach and shop (like Honolulu), we went to see and experience a new part of the world.  We visited the Jumeira Mosque (the only mosque in the city non-Muslims can visit), the Gold Souk, the Spice Souk, the malls, the Burj Khalifa, and rode the little dhow boats across Dubai Creek.  We ate at numerous Middle Eastern restaurants even though every other kind of food is available (and easier to find).  We spent our last night at a Lebanese restaurant watching the Dubai Fountains dance to the tune of Celine Dion, a Mandarin song and Thriller.

Even though I initially wasn't thrilled that a trip to Saudi Arabia and Dubai were going to become our 20th anniversary trip, now that we've done it, I realize that my most favorite thing to do is travel internationally, learn from new cultures, see new sights and eat new foods.  Doing it with my husband of 20 years?  Priceless.

Our last night–I'm wearing a sleeveless dress but my orange cardigan's right there!