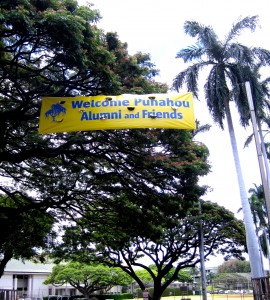 A friend quoted another friend: "I'm in touch with who I want to be in touch with, so why should I do reunions?" As I attended various events for my 30th high school reunion, I kept thinking about his words. Because I'm the complete opposite. I don't keep in touch with who I want to be in touch with, and that's why it was good to fly 6000 miles and reacquaint myself with the Punahou class of 1983.
On one hand, I do keep in touch. The nature of my work in campus ministry calls for communicating with friends and donors regularly, especially asking for prayer. I send email updates and Christmas cards and the very very occasional snail mail mailing.
On the other hand, I'm terrible about connecting on a more personal level. I don't call my parents, siblings and best buds. I don't write. I forget to send birthday, anniversary, and other special occasion cards let alone gifts.
Maybe it's because:
When my parents moved to Hawaii, the time change, distance and exorbitant price of long distance calls meant they hardly ever communicated with their parents & siblings and I've followed their pattern.
Those factors remained when I went to college, so I just didn't phone home very often.
I'm overly focused on the present—I tend to love the one I'm with.
I'm not a phone person.
I'm lazy, poor at prioritizing and selfish
But even if the latter reason were 100% true, it doesn't change the fact that there are scads of people I wish I were in better contact with because they're awesome and I truly care for them. Growing up friends, college friends, graduate school friends, alums from my ministry, colleagues, church friends, faculty, friends of friends, former neighbors, current neighbors—all folks I've genuinely appreciated who touched me in some way.
So despite my reunion jitters going in, I enjoyed reconnecting. There were folks I haven't seen in 30 years, folks I haven't talked with since 3rd grade, folks I haven't talked with our whole lives, but the commonality of growing up in the same unique place and time created a bond nevertheless.
At 30 years, folks seemed comfortable in their own skins. Since this was my first official reunion, I can't comment on the sociology of reunions over time, but I heard from others that at 15 years everyone needed to show off their spouse or significant other. At 30 years, about 85% of us came stag.
So now that I have one entire reunion under my belt, here are some reunion tips:
Don't park at a table–roam around and chat. Folks will sit in their old friendship groups, so if you want to talk with more than a certain set of people, you've got to mingle.
Be friendly and initiate: I had to say to someone, "I'm sorry, but I have absolutely no memory of you." I could say that because I was 99.99% sure he had no memory of me. So we just took it from there.
I wish I had led with the question, "What's your story?" After 30 years of not seeing someone, it's awkward to know what to ask beyond the safe "What do you do now?" because folks may be divorced, widowed, sick, struggling, etc.
Share any positive memory you have of someone. It's a nice way to build a bridge.
Bring your old yearbook. Even if it's heavy.
Help us all and wear your name tag
Most important? Just go. Because there are awesome people from your past
who deserve to see your face again.