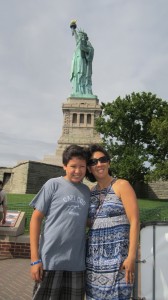 The week before school, I took my 13 year old son Ren to NYC for our mother/son 13th year extravaganza. I wrote about the importance of Rites of Passage and Tips for a Mother-Teen Trip 2 years ago when I took my daughter Kai to Kauai for her 13th year celebration (you can read about what we did and talked about here, here and here). But for this post I'm sharing the best ways to save money and get great quality in NYC.
I'm more than a little obsessed with getting a great deal. My business friend says, "Time is money—why spend time saving money when you could spend time making money?" His point's completely valid. But in my work, time doesn't correlate with money. Therefore I want to spend as little as possible while getting the most.
Here's how I did it.
Getting There: Don't bring your car. Don't rent a car. Parking will cost you at least $40/night at a hotel. Cheapest from Boston? Take the bus. More comfortable? Take the train. We took Greyhound for $36 each roundtrip, less than gas would have cost if we drove.
Getting a Hotel: I'm a sucker for Priceline and Bidding for Travel, a site that gives you strategies for Priceline. It takes some time, and you have to give yourself a week or so to work the system, but I've gotten some great deals over the years. I also like Hotwire—got an incredible Napa deal for Scott and my 20th anniversary. This trip, I used all 3, plus Kayak.
The week before Labor Day must have been popular because I kept coming up short. After 3 days of bidding and re-bidding on 4* and 3.5* hotels, I noticed a 4.5* deal on both Priceline Express and Hotwire and tried to underbid it. After all that work? I saved $15/night off the Priceline Express price. Sigh.
But I saved about $115/night for the Intercontinental Hotel in Times Square paying the general 2* rate.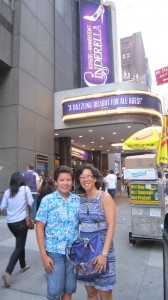 Getting Broadway Tickets: Go to TKTS in South Street Seaport to get same day shows from 20-50% off. It opens at 11 a.m., 4 hours earlier than Times Square. The line's shorter, and because the tickets are electronic, you get better seats because they sell from the front on back. If you want balcony cheap seats, your best bet is to go to TKTS in Times Square right before the show.
Even better, on Tuesday morning, you can buy both Tuesday night and Wednesday matinee tickets, probably also true on Friday morning. We saw Cinderella (15th row right of center) and Newsies (8th row right of center)—a super treat for my theatre guy.
Eating Out: Groupon had a ton of NYC deals. Because restaurants that offer Groupons might be questionable, I Yelped spots I was interested in. This took way too much time. But it was a good way to use the free wifi on our Greyhound.
Many Groupon deals included cocktails or wine (not the most helpful for a 13 year old and I certainly didn't need to drink a whole bottle on my own). We had a 3 course chateaubriand steak dinner at Padre Figlio for $59 and dinner/dessert/cocktail-virgin pina colada at Zoe Restaurant for $42 plus tip (always tipping on the full price of course).
Other great cheap eats we enjoyed included Shakeshack, which (unfortunately for my waistline) was on our hotel block and we ate at EVERY DAY, Shanghai Gourmet, where a bamboo steamer with 8 xiao long bao (soupy dumplings) cost $4.95, and my favorite, the Chinatown Ice Cream Factory where they've expanded beyond almond cookie and lychee (my former favorite flavors) to black sesame and pandan—so good!
Traveling in the City: Cheapest way? Do as New Yorkers do and walk! We put in over 20K steps every day. Ren got 6 blisters on our first walk—luckily, I had bandaids—but by our last night, he suggested we walk from the Lower East Side back to our hotel in Times Square—2.8 miles according to my i-phone map.
Otherwise, take the subway—so fast, so convenient and an adventure. There's now a subway app for smartphones–very helpful.
Fun: Book the big destinations early. I booked the 9/11 Memorial and Statue of Liberty tickets over a month before. To climb the Statue of Liberty crown, you needed to book at least 3 months in advance.
We boated in Central Park—at $12/hour, one of the more inexpensive and memorable NYC things to do that I'd never done before.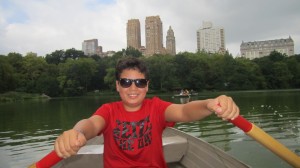 We also visited the Intrepid Museum, not cheap, but very 13 year old boy oriented. Get there early because the lines for the submarine can be long!
In Sum:
Bus Ride: $72
Hotel: $651.03
Metrocard: $25
2 orders Shanghai Gourmet's Xiaolongbao, Sichuan string Beans and Tip: $18
4 days/3 nights/2 Broadway Shows/Walking 100,000 steps with my 13 year old son? Priceless.