Several weeks ago I lost my Fitbit pedometer somewhere between BJs, the Party Store, Michael's, CVS and Marshalls—it was quite the day of shopping. And I felt a sense of desolation that doesn't seem appropriate for a thumb sized plastic object. That I'm blogging yet again about a pedometer also seems not quite right—but there's no device other than my laptop that's affected my life more!
Ever since Scott brought home that first Fitbit, we've had a friendly step competition with a variety of friends. With the goal of 10,000 steps/day, or about 5 miles, we've walked to town instead of driven, run up and down our one flight of steps, parked farther away, and hiked more.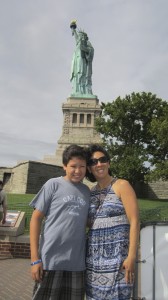 I've been crazed about my Fitbit, even attaching it to my underwear on a mother/son trip to the Statue of Liberty because it didn't fit anywhere on my strappy sundress. Unfortunately, getting it off my underwear before security while standing among 400 other tourists in the open air ended up being one of those moments my teenage son wishes he could block out of his mind forever.
The media's been commenting on our culture of measurement and how maybe that's not so good. But my inner competitive spirit compels me to at least try most days to hit that 10K mark. And with all the research out there that sitting is the new smoking, I assume it's been good for my body.
When my sister "friended" me on Fitbit, she said she hoped our sibling rivalry issues wouldn't explode over steps. Well, our sibling rivalry issue—that she "beats" me at everything—has held true again. She routinely walks 15K more per week than I do. She usually even beats Scott, who runs 6 days/week. Her secret? 90 minutes of tennis 5-6 times a week. We just can't keep up.
One night when she first joined, we watched her increase her steps online while we watched a movie. Determined to not let her best us, Scott and I marched during the movie in an attempt to keep up. But these days her superiority of stepping has so overwhelmed me that as in all other areas of life, I've conceded.
I'm Fitbit "friends" with several others. When a friend who usually hits 70K/week instead sported 150K, I "cheered" her. She wrote back—turns out she took a niece to Disneyland and walked 15 miles/day. Who knew Disneyland could be so good for you?
I ordered a new Fitbit the day I lost the old one, but it hasn't come yet because in an attempt to save money it turns out I ordered it from Belgium. The month long reprieve from measurement has not been good. I just don't make the extra effort without the reward of seeing those numbers go up. The friendly competition helps me get healthier even if my sister beats me every week. So Belgian Post, will you please deliver?